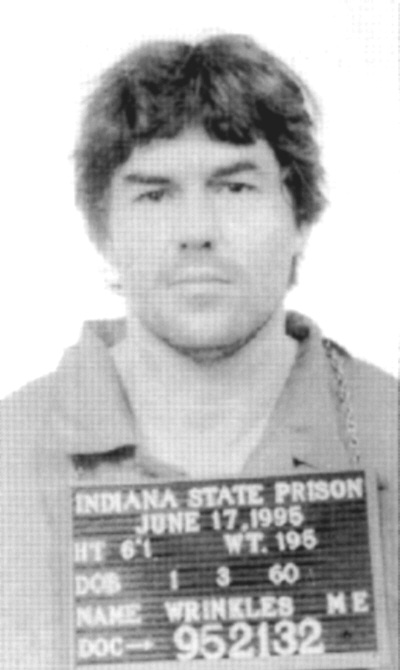 WRINKLES, MATTHEW E. # 82
ON DEATH ROW SINCE 06-14-95
DOB: 01-03-1960 DOC#: 952132 White Male
Vanderburgh County Circuit Court
Judge Richard L. Young
Prosecutor: Stanley M. Levco, Mary Margaret Lloyd
Defense: Michael J. Danks, Dennis A. Vowels
Date of Murder: July 21, 1994
Victim(s): Debbie Wrinkles W/F/31 (Wife); Tony Fulkerson W/M/28 (Brother of Debbie); Natalie Fulkerson W/F/26 (Wife of Tony)
Method of Murder: shooting with gun
Summary: After continuous marital problems with her husband Matthew Wrinkles, Debbie moved out of the house with their two children, going to live with Debbie's brother, Tony, and his wife, Natalie, on Tremont Drive in Evansville. Twice in the past Wrinkles had threatened Debbie with a gun. Soon after, Wrinkles filed for divorce. His mother was concerned about his behavior and had him committed. After three days of evaluation, he was released. In the next two weeks, despite a Protective Order in effect, Wrinkles went looking for Debbie. He showed up at her place of employment, and at the homes of two of her friends, dressed up in camouflage demanding to see her. He was unsuccessful each time. On July 20, 1994 Wrinkles, Debbie and their attorneys met for a provisional hearing in their divorce proceeding. They reached an agreement to set aside the Protective Order, and for Wrinkles to have visitation. They also agreed for Debbie to meet Wrinkles with the kids at a restaurant later that day. Debbie decided not to show up for the meeting. Later that night, Wrinkles again dressed up in camouflage and drove to the home of Tony Fulkerson, where Debbie and the kids were staying. He parked a block away, cut the telephone wires, and kicked in the back door. He was armed with a .357 handgun and a knife. When he was finished, Natalie was dead on the front porch with a gunshot wound to her face; Tony was dead in the bedroom with four gunshot wounds, to his face, hip, chest, and back; Debbie was dead in the hallway with a gunshot wound to her chest/shoulder area. One of the children, Lindsay Wrinkles saw her father shoot her mother, then open her shirt and attempt CPR. Lindsay told him she was going to call police, and he fled from the house. Wrinkles was later arrested at the home of his cousin, where the .357 murder weapon was recovered.
Trial: Information/PC for Murder filed (07-21-94); Amended Information for DP filed (07-28-94); Voir Dire (05-11-95, 05-12-95, 05-13-95); Jury Trial (05-15-95, 05-17-95, 05-18-95, 05-19-95); Verdict (05-19-95); DP Trial (05-20-95); Verdict (05-20-95); Court Sentencing (06-14-95).
Conviction: Murder, Murder, Murder
Sentencing: June 14, 1995 (Death Sentence)
Aggravating Circumstances: b(8) 3 murders
Mitigating Circumstances: no significant history of criminal conduct, methamphetamine intoxication at time of murders, extreme emotional disturbance, grew up in dysfunctional family
Direct Appeal:
Wrinkles v. State, 690 N.E.2d 1156 (Ind. December 31, 1997)
Conviction Affirmed 5-0 DP Affirmed 5-0; Sullivan Opinion; Shepard, Dickson, Selby, Boehm concur.
Wrinkles v. Indiana, 119 S.Ct. 148 (1998) (Cert. Denied).
PCR:
PCR Petition filed 12-01-98. PCR denied 09-03-99 by Vanderburgh Circuit Court Judge Carl A. Heldt.
Wrinkles v. State, 749 N.E.2d 1179 (Ind. June 29, 2001).
(Appeal of denial of PCR by Vanderburgh Circuit Court Judge Carl A. Heldt)
Affirmed 5-0; Rucker Opinion; Shepard, Dickson, Sullivan, Boehm concur.
Wrinkles v. Indiana, 122 S.Ct. 1610 (2002) (Cert. Denied).
Wrinkles v. State, 776 N.E.2d 905 (Ind. October 15, 2002).
(Indiana Supreme Court Order denying successive PCR)
5-0 Shepard Opinion; Dickson, Sullivan, Boehm, Rucker concur.
Habeas:
Petition for Writ of Habeas Corpus filed 07-25-02 in U.S. District Court, Northern District of Indiana.
05-18-05 Writ of Habeas Corpus denied by Judge John D. Tinder.
AWAITING APPEAL TO 7TH CIRCUIT COURT OF APPEALS.
As of July 1, 2006