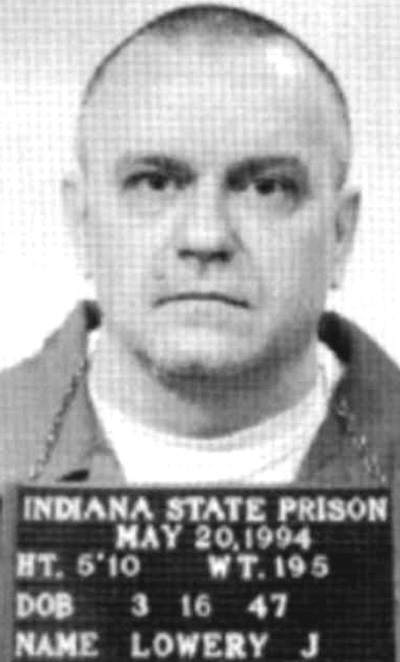 LOWERY, JAMES # 5 & # 17
EXECUTED BY LETHAL INJECTION 06-27-01 12:29 A.M.
DOB: 03-16-1947 DOC#: 18667 White Male
Boone County Superior Court
Judge Paul H. Johnson, Jr.
Venued from Tippecanoe County
Prosecutor: John H. Meyers, John Barce
Defense: Lawrence D. Giddings, Donald R. Peyton
Date of Murder: September 30, 1979
Victim(s): Mark Thompson W/M/80; Gertrude Thompson W/F/80 (Former employers)
Method of Murder: shooting with .32 handgun
Summary: Mark and Gertrude Thompson were 80 years of age, in declining health, and needed assistance in caring for themselves and their property. Both were found shot to death in their country home in West Point, Indiana. The Thompsons has earlier employed Lowery and his wife as caretakers. The Thompsons, dissatisfied with the Lowerys, asked them to leave. Lowery and his friend Jim Bennett discussed committing robbery and Lowery told Bennett he knew where he could get some money. On September 30, Bennett picked Lowery up and followed Lowery's directions. Lowery told Bennett they were going to the Thompson's residence to force him to write a check for $9,000, then to kill and bury both Thompsons. Janet Brown, housekeeper and caretaker for the Thompsons, was sitting in her trailer adjacent to the Thompson's garage when Lowery, armed with a pistol and sawed-off shotgun, kicked the door open and entered. After some conversation, Lowery forced her to take him into the Thompson's residence. Lowery took Brown into the kitchen where Mark Thompson was standing. He told Thompson he was being held up and then shot him in the stomach. Lowery then went to another room, forced Mrs. Thompson into the kitchen and shot her in the head. He also shot Brown, but Brown had her hand over her head when Lowery fired at her, causing injury to her hand and her head, but not fatally wounding her. A burglar alarm began ringing and Lowery became excited. He went back to and shot Mr. Thompson in the head before fleeing the scene. Lowery admitted killings during penalty phase testimony. Bennett pled guilty by agreement, received a 40 year sentence, and testified against Lowery at his first trial. When he refused to testify at the second trial, his previous testimony was admitted.
Conviction: Murder, Murder, Attempted Murder (A Felony)
Sentencing: July 11, 1980 (Death Sentence)
Aggravating Circumstances: b (1) Burglary/Robbery; B(8) 2 murders
Mitigating Circumstances: no parental love, mental commitment as a teenager
Direct Appeal:
James Lowery v. State, 434 N.E.2d 868 (Ind. May 5, 1982)
Conviction Reversed 3-2 DP Vacated 3-2 (Failure to sequester)
Debruler Opinion; Hunter, Prentice concur; Givan, Pivarnik dissent.
Lowery v. State, 471 N.E.2d 258 (Ind. 1984)
(Regarding attorney fees for public defenders at DP trial)
On Remand: Trial was venued to Hendricks County and Lowery was again convicted of Murder, Murder, Attempted Murder and sentenced to death and 50 years imprisonment by Judge Jeffrey V. Boles on 01-07-83.
Direct Appeal:
James Lowery v. State, 478 N.E.2d 1214 (Ind. 1985)
Conviction Affirmed 5-0 DP Affirmed 4-1
Pivarnik Opinion; Givan, Hunter, Prentice concur; Debruler dissents.
Lowery v. Indiana, 106 S. Ct. 1500 (1986) (Cert. denied)
PCR:
PCR Petition filed 07-18-86. PCR denied on 10-22-90 by Special Judge Thomas K. Milligan.
Lowery v. State, 640 N.E.2d 1031 (Ind. 1994)
(Appeal of PCR denial by Special Judge Thomas K. Milligan)
Affirmed 5-0 except Attempted Murder conviction reversed;
Debruler Opinion; Shepard, Dickson, Givan, Sullivan concur.
Habeas:
Petition for Writ of Habeas Corpus filed 02-05-96 in U.S. District Court, Southern District of Indiana.
Writ denied 07-06-99 by U.S. District Court Judge David Hamilton.
Lowery v. Anderson, 69 F.Supp.2d 1078 (S.D. Ind. July 6, 1999)
(Petition denied by Judge David Hamilton)
Lowery v. Anderson, 225 F.3d 833 (7th Cir. August 29, 2000)
Affirming the denial of habeas corpus.
3-0 Circuit Judge Bauer Opinion, Flaum, Manion.
Lowery v. Anderson, 121 S.Ct. 1488 (April 2, 2001) (Cert. Denied)
Clemency:
Lowery v. Anderson, 138 F.Supp.2d 1128 (S.D. Ind. April 13, 2001)
(Order of Judge Hamilton granting the Motion for Appointment of Counsel for state clemency proceedings; Monica Foster and Brent Westerfield appointed; "the Court anticipates that a maximum of approximately 80 hours of attorney work may be 'reasonably necessary' in the clemency proceedings.")
LOWERY WAS EXECUTED BY LETHAL INJECTION ON 06-27-01 12:29 AM EST. HE WAS THE 79TH CONVICTED MURDER EXECUTED IN INDIANA SINCE 1900, AND THE 9TH SINCE THE DEATH PENALTY WAS REINSTATED IN 1977.
As of July 1, 2006