Executed August 25, 2000 by Lethal Injection in Florida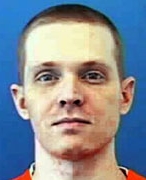 63rd murderer executed in U.S. in 2000
661st murderer executed in U.S. since 1976
5th murderer executed in Florida in 2000
49th murderer executed in Florida since 1976
Since 1976

Date of Execution

State

Method

Murderer
(Race/Sex/Age at Murder-Execution)

Date of
Birth

Victim(s)
(Race/Sex/Age at Murder)

Date of
Murder

Method of
Murder

Relationship
to Murderer

Date of
Sentence

661

08-25-00

FL

Lethal Injection

Daniel Patrick Hauser

W / M / 25 - 30

07-24-70

Melanie Rodrigues

W / F / 21

01-01-95

Strangulation

None

03-04-96

Summary:
Hauser, originally from Dublin, Calif., pleaded no-contest to First Degree Murder after confessing he had randomly chosen his victim, Melanie Rodrigues, 21, who worked at a convenience store and Sammy's, a topless bar. He said he strangled the woman to satisfy a longtime urge to kill. The victim's body was found 2 days later under a bed in a Fort Walton Beach area motel room less than a mile from Sammy's. Hauser confessed to the killing after he was arrested in Reno, Nev. on Feb. 10, 1995 on a charge of stealing a pickup truck in North Carolina. Hauser waived all appeals, claiming to be a "believer" in the death penalty.


Citations:


Internet Sources:


Hauser, originally from Dublin, Calif., pleaded no-contest to 1st-degree murder after confessing he had randomly chosen his victim, Melanie Rodrigues, 21, who worked at a convenience store and Sammy's, a topless bar. He said he strangled the woman to satisfy a longtime urge to kill. The victim's body was found 2 days later under a bed in a Fort Walton Beach area motel room less than a mile from Sammy's. Hauser confessed to the killing after he was arrested in Reno, Nev., on Feb. 10, 1995 on a charge of stealing a pickup truck in North Carolina.

One of Hauser's letters was addressed to Gregory Smith, a lawyer with the Capital Collateral Counsel-Northern Region. A lawyer from the governor's office in June had asked Smith to determine if his agency should get involved. Smith declined comment on whether such involvement is being considered. "Attempts to represent me against my will only serve to add to the suffering of the victim's family and my family," Hauser wrote. He also asked to the Supreme Court to direct Smith "not to interfere, or try to force representation on me." Hauser has been visited on death row by his adoptive parents, a California college teacher and a copier salesman. Hauser has been appointed an attorney to "stand by" in case he wants legal advice. 8/18/00 - Dan Patrick Hauser, convicted of the heinous torture-murder of a strip club worker in 1995, wants to be executed. Tuesday evening, he has a date with a lethal injection at Florida State Prison in Starke. But first he has to get past his mother.

Hauser is a believer in the death penalty who has fought to keep lawyers from appealing on his behalf. But on Thursday, state-funded lawyers who handle death appeals filed an emergency request with the Florida Supreme Court, claiming Hauser's execution is simply suicide and the state has no business helping him. The lawyers filed the request on behalf of his mother, Zainna Fawnn Crawford. "The only question is whether the state of Florida is going to be the means by which Dan Hauser is going to commit suicide," said Tim Schardl, legal coordinator for the Capital Collateral Counsel office in Tallahassee, who filed the emergency appeal. Hauser himself, though, is having none of it. As soon as the unusual petition hit the high court Thursday, Hauser himself fired off a handwritten rebuttal to the justices, basically telling his mother and the lawyers to butt out. Saying he "fully" understands the penalty for his crime, Hauser called their intervention a "last minute, hail-Mary approach to scare this court into backing anti-death-penalty crusaders' attempt to define justice as they see fit."

It is unclear whether the death-penalty lawyers' last-minute tactic may work, but it may at least result in the execution being delayed long enough for Hauser to get a new psychological evaluation, said Bruce Winick, a University of Miami criminal law professor who specializes on criminal procedure law. Hauser, 30, a drifter from Washington state with a penchant for stealing cars, burglarizing houses and conning people, was condemned to death for the New Year's Day 1995 strangulation murder of Melanie Rodrigues, 21, in Fort Walton Beach. He confessed almost immediately after he was arrested near Reno, Nev., in February 1995. He pleaded guilty and, just before his sentencing hearing, wrote out a detailed, gruesome description of how he brutally killed Rodrigues, who worked selling champagne in a strip club not far from the motel where her body was found. But Schardl, the death-appeals lawyer, says Hauser made up the details to deliberately draw a death sentence from the judge. "Mr. Hauser's death sentence is based entirely and exclusively on information that is provided by Mr. Hauser that is false," Schardl wrote. The problem, Schardl said, is that most of the worst stuff was made up and inconsistent with the evidence that crime scene experts and the medical examiner found. "The basis for his death sentence is invalid, based on falsehoods deliberately perpetrated by Mr. Hauser, in an effort to subvert the course of justice . . . and in order to enlist the state in his grandiose attempt at suicide," Schardl wrote in his 32-page motion to the high court. In a phone interview Thursday, Schardl added: "We know he made up evidence to make it a death penalty case."

In his written description of the crime, Hauser wrote that he had been planning to kill someone and picked Rodrigues because she was "weak and naive." He said after he and Rodrigues had sex, he asked her for a hug, then began a slow game of torture, choking her until she passed out, then letting her revive before doing it again. Finally, he wrote, he told her, "Well, this is it," and pressed down on her throat until she died. "I wanted to watch the fear in her eyes," he wrote. He said he pressed so hard his hands were sore for 6 days. Yet in an earlier confession that was not part of the court record, Schardl said, Hauser told police that the death happened quickly and that he didn't know why he killed the woman. Schardl said the physical evidence, such as bruises and a broken bone in Rodrigues' throat, was highly inconsistent with Hauser's description. Hauser lied about not having been treated for mental illness, Schardl said. The lawyer is attacking a March 1999 psychological examination of Hauser that judged he was competent to be executed. In his emergency request Thursday, Schardl submitted the opinion of a psychiatrist who said her review of the case leads her to believe Hauser is not competent to abandon his appeals. Hauser's response to the court Thursday said the lawyers were trying to "subvert" his constitutional right to represent himself and are relying on the opinions of people who have never met him.


Hauser said he has subjected himself to every examination, every line of questioning possible to determine that he is competent to represent himself and to choose not to postpone his execution. Shortly after Hauser's arrest, he told Stan Griggs, the lead Okaloosa County Sheriff's detective in the case, that he believed in the death penalty. He said the same thing to Jim Tongue, his public defender in Fort Walton Beach. "He admitted what he had done and said that he basically believes in the system and he should take his punishment," Tongue said. "He did not want to spend the rest of his life in prison." When Gov. Jeb Bush signed Hauser's death warrant earlier this year, he asked the Capital Collateral Counsel office to investigate whether representation by the agency was warranted. Schardl said he has met with Hauser several times and feels the intervention is warranted. But that can only happen if the Florida Supreme Court allows it. Winick, the University of Miami lawyer, said the Supreme Court will probably order another psychological evaluation. "If he is competent, he can make the decision, because it is his life," Winick said. "But when a life is at stake, the state should examine him." UPDATE: This motion was dismissed by a 4-3 vote of the Supreme Court for lack of standing. This means the execution can proceed, however, Hauser could halt it at anytime.

8/18/00 UPDATE: Despite the dismissal, the Capital Collateral Counsel office has filed a petition asking for a rehearing of this issue.

8/22/00 UPDATE: A US District Court has issued a stay of execution based on the petition filed against Hauser's wishes. Judge Stephan Mickle has granted a stay to allow himself enough time for a "meaningful review".

8/24/00 UPDATE: This stay was lifted by a federal court and the execution has been rescheduled for August 25.

"She was small, easy to overpower and new (as a dancer), yet still making money," Hauser wrote in the confession, explaining how he picked Rodrigues from among dancers at a topless bar to lure back to his motel room with the offer of $200. There, she danced naked for him again, and they had sex twice before she stood up to leave, he wrote. "I stood up at the end of the bed and asked her to give me a hug," Hauser wrote. "I was standing there in front of her thinking, 'This is my last chance; if I want to kill her I am going to have to do it now!' "So just as we pulled apart, I put my hands around her neck and threw her on the bed. . . . I put only enough pressure so she could not scream. I wanted to watch the fear in her eyes. I let up so she could take a breath and just stared at her while she started to lose consciousness, then let her breathe again and said, 'Well, this is it.' I put as much pressure as I could and held it until she gave this shake and her body tensed up then went limp." He stashed Rodrigues' body under a bed, cleaned up the room, and began driving west. Because Hauser had rented the Econo Lodge room in his own name, officers were able to track him to an RV park in Reno, Nev. He liked the feeling of power over Rodrigues while he was killing her, and thought about killing other women before and afterward, but didn't, because "things just didn't work out," he told Griggs. Hauser told Griggs, " 'I've always been for the death penalty, and I'm not going to change my mind because I'm in hot water,' " Griggs remembered last week. Since then, Hauser has fired his attorneys and waived his appeals in neat, handwritten motions he mails to court.

Still, the Florida Supreme Court held an appeal hearing, and Gov. Jeb Bush held a clemency hearing against his wishes. Both upheld the death sentence. Lawyers with the Capital Collateral Counsel, who represent indigent condemned prisoners, filed 150 pages of motions this week on Hauser's behalf but against his wishes. Hauser is a bipolar manic depressive who needs medication, and that makes him legally incompetent to represent himself and waive appeals, CCC lawyer Gregory C. Smith contended. Hauser made up the terrible details he included in his confession after researching aggravating factors in the jail library to ensure he would be sentenced to die, Smith argued. Before that, he had told investigators and his lawyers he was confused and anguished about the crime and could not remember exactly how or why it happened. The Supreme Court ruled Friday that CCC had no right to help Hauser against his wishes.

Hauser's adoptive parents in Oregon find the situation too painful to talk about. Smith's brief says they apparently support their son's decision to be executed. Rodrigues' mother said she remains filled with anguish over the loss of her only child, a kind-hearted girl who loved the beach and went out of her way to help friends. Rodrigues helped manage a Destin convenience store and danced at Sammy's on the Island only as a temporary second job, Pamela Belford of Fort Walton Beach said. She wants Hauser to die. "He's not going to put another family through this," she said. "He's not going to take a beautiful human being and take her life." Prisoners executed in Florida since 1976 spent an average of 11.3 years on death row. Because he has not fought his sentence, Hauser has been there just 4 1/2. Many of the 370 Florida death row inmates have been there more than 20 years. Still, on June 29, Bush chose Hauser to die next.

The lack of appeals "obviously moved it to the top of the stack," Bush's spokeswoman Elizabeth Hirst explained Friday. "It was appropriate timing for the warrant to be signed." When the state changed its primary method of execution from the electric chair to lethal injection in January, Bush also signed a law that would have taken away the right for condemned prisoners to file many appeals, shortening the typical stay on death row to about the time Hauser has served. The Supreme Court struck down the law as unconstitutional. Unless Bush suddenly changes his mind before Tuesday night, or a court intervenes against Hauser's wishes, he will be the fifth person Florida executes by lethal injection.

A man who said he murdered a woman to satisfy an urge to kill died by lethal injection Friday, a day after a stay of execution was lifted. Dan Patrick Hauser, 30, was condemned for the New Year's Day 1995 murder of Melanie Rodrigues, 21, who worked in a Destin convenience store, and at Sammy's, a nightspot, in Fort Walton Beach. Hauser was pronounced dead at 6:08 p.m., said Elizabeth Hirst, spokeswoman for Gov. Jeb Bush. She said there were no complications.

Hauser, who fired his attorney and fought attempts to spare his life, had received a 3-day reprieve Tuesday when U.S. District Judge Stephan Mickle stayed his execution. The judge was asked to consider evidence that Hauser was incapable of making a rational decision to drop his appeals because he has suffered from a mental disorder since his teens. The 11th U.S. Circuit Court of Appeals in Atlanta lifted the stay Thursday afternoon and the state rescheduled the execution for 6 p.m. Friday. Hauser was arrested in Reno, Nevada, on Feb. 10, 1995, and confessed to the killing. He told investigators he decided to satisfy an urge to kill.

In his confession, Hauser expressed disappointment that he didn't experience the "rush" he anticipated when he slowly strangled Rodrigues. He did say he was pleased "to watch the fear in her eyes" and that he felt no remorse. Authorities believe Hauser arrived in Okaloosa County on Friday, Dec. 31, 1994, and rented a room at the Edgewater Apartments in Fort Walton Beach. Rodrigues left work at Sammy's and met Hauser, who apparently lured her back to his room.

On Jan. 3, 1995, deputies found her car in the motel's parking lot, and her partially nude body was found in his room, hidden under a mattress. rison officials said Hauser didn't want a special final meal and so his meal of Asian food on Tuesday was his last. Since then, Hauser has eaten only candy bars and crackers, said Department of Corrections spokesman C.J. Drake. On Monday, Circuit Judge Thomas Remington agreed with Hauser he was competent to represent himself and drop all appeals. "I fully understand everything that's going on," Hauser told Remington in a conference call. Death-penalty opponents have characterized Hauser's execution as "assisted suicide."

Since executions resumed in 1979, Hauser is the second Florida inmate to fight attempts to spare him. In 1993, Michael Alan Durocher was executed after fighting attempts to block his death. Durocher, 33, pleaded guilty to the slaying of his baby son, his girlfriend, and her young daughter in Clay County.

Hauser becomes the 5th condemned inmate to be put to death this year in Florida and the 49th overall since the state resumed capital punishment in 1979. 5 executions in 1 year are the most since 1984 when 12 men died in Florida's electric chair. All 5 this year have been by lethal injection. Hauser becomes the 63rd condemend inmate to be put to death this year in the USA and the 661st overall since America resumed executions on January 17, 1977.

The defendant in the hearing before Bush and the Cabinet, Dan Hauser, did not appear to be a good candidate for clemency. He pleaded guilty to strangling Melanie Rodriguez of Fort Walton Beach on New Year's Day in 1995. Prosecutors said he is not contesting the death penalty. The Florida Supreme Court unanimously upheld the death penalty, Hauser fired his court-appointed lawyers, filed no further appeals and was not represented at the clemency hearing in Tallahassee. Still, Bush held the proceeding out of what an aide said was "an abundance of caution." The four men executed since Bush took office last year all had clemency proceedings under Chiles. Bush and the Cabinet heard from the victim's mother and cousin and a prosecutor, who all urged that Hauser be executed.


Bush said in an interview before the hearing that the disappearance of clemency in recent years was due to the fact that the court appeals process was working. "So when it gets to the clemency area, while it's another safeguard, it is seldom used because the process works pretty well," Bush said.


But whether the decline of clemency reflects improved court procedures or a hardening of attitude toward crime is a matter of dispute among supporters and opponents of the death penalty.

July 1970 Dan Hauser was born

September 1970 Dan Hauser was adopted

January 1995 Dan Hauser was charged for murder

August 2000 Dan Hauser was executed

Dan Hauser first came to my attention on March 4, 2000, when a Tibetan (KTG) group asked me if I could help get a mala for a Death Row inmate. I contacted Dan for more information. At the same time, I offered to send him books and visit with him. However, I also told him that if I were to visit with him, it would have to be as a chaplain because my pastoral status within the Florida prison system would be terminated with any private visits. (There are ten prisons that I visit a minimum of once a month.) He welcomed the visit, and we met for the first time that month. In March, he told me what he expected as the timetable for his execution. I checked with the prison chaplain because it sounded awfully fast considering he had been on Death Row for such a short time. I was led to believe that inmates were not always a reliable source of information; it appears he was the only one who knew his situation. Dan took precepts on Death Row in June. Shortly thereafter, the Death Warrant was signed, and he was moved from Union CI to Florida State Prison for execution. My sense is that the precepts would have been difficult, if not impossible, to do in the Death Watch area had we waited to do them after the Death Warrant was signed. Pastoral counseling changes from one hour a month prior to the Death Warrant being signed to a maximum of 12 hours a week afterward. My situation was such that I could only make two trips a week for the first three weeks and three trips a week for the next three or four weeks. Visits after the Death Warrant is signed are limited to weekdays between 9 a.m. and 3:30 p.m. Visitation and travel meant the loss of an entire working day.