Executed April 21, 1992 by Gas Chamber in California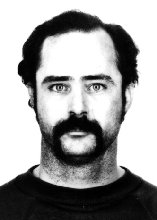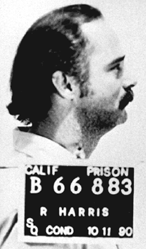 12th murderer executed in U.S. in 1992
169th murderer executed in U.S. since 1976
1st murderer executed in California in 1992
1st murderer executed in California since 1976
Since 1976

Date of Execution

State

Method

Murderer
(Race/Sex/Age at Murder-Execution)

Date of
Birth

Victim(s)
(Race/Sex/Age at Murder)

Date of
Murder

Method of
Murder

Relationship
to Murderer

Date of
Sentence

169

04-21-92

CA

Gas Chamber

Robert Alton Harris

W / M / 25 - 39

01-15-53

John Mayeski
W / M / 16

Michael Baker
W / M / 16

07-05-78

Handgun

None

03-09-79

Summary:
Robert Alton Harris and his brother, Daniel Marcus Harris, abducted two teenage boys from a fast food restaurant, forcing them to drive to an isolated area. After Robert shot and killed both boys, they drove home, then later used the stolen car to rob a bank. A witness followed the car from the robbery, and police arrested both men. Both Robert and Daniel Harris admitted the abduction and killing of the teenagers to police. At trial Robert Harris admitted robbing the bank but denied kidnapping the youths or being responsible for their murders. He was nevertheless convicted and sentenced to death. Accomplice Daniel Marcus Harris testified at his brother's trial and was sentenced to six years in state prison for kidnapping. He was discharged in 1983.

Harris became the first person executed in California since the reinstatement of the death penalty in 1976. At the time of the execution, the U.S. Supreme Court was forced to take the unprecedented step of not allowing any stays through lower courts, after the 9th Circuit Court of Appeals repeatedly granted last-minute stays.

Citations:
People v. Harris, 171 Cal.Rptr. 679 (Cal. 1981) (Direct Appeal).
Pulley v. Harris, 104 S.Ct. 871 (1984) (Habeas).
Vasquez v. Harris, 112 S.Ct. 1713 (1992) (Stay). (Stay)

Internet Sources:


California Department of Corrections

Harris, Robert Alton
CDC#: B-66883
Sex: M
Alias: None
Race: White
Date Received: 03/14/1979
DOB: 01/15/1953
Education: Unknown
Location: San Quentin
Married: No

SENTENCE:
County of Trial: San Diego
Sentence Date: 03/09/1979
County of Residence: San Diego
Offense Date: 07/05/1978
Case #: CR44135

VICTIMS: John Mayeski (male, 16), Michael Baker (male, 16)

CO-DEFENDANT: Daniel Marcus Harris, CDC# C03005

SUMMARY:

The defendant, Robert Alton Harris, and his brother, co-defendant Daniel Marcus Harris, abducted two teenage boys. The defendant brutally murdered the boys, and then stole their car.

The investigation revealed that at 10:30 a.m. on July 5, 1978, the defendant and co-defendant left their residence, and drove to a fast food resturaunt. Once at the resturaunt, the two men abducted two 16-years-old boys, John Mayeski and Michael Baker. The defendant held the victims at gunpoint with a 9mm Luger pistol and forced them to drive until they reached an isolated area. Daniel Harris followed in the defendant's 1963 Ford.

At about 11:45 a.m., the defendant shot and killed both victims in the presence of Daniel Harris. Following the killings, the Harris brothers drove both automobiles to their residence. Later that day they drove the stolen vehicle to a local bank. Donning colored ski masks, the two robbed the bank, netting $2,000 in cash. The Harrises fled the bank at 12:30 p.m. and drove back to the residence. Robert Harris parked the stolen vehicle in the garage.

At about 1:05 p.m., San Diego police officers, acting on a tip by a witness who had followed the suspects' vehicle to the residence, apprehended the Harrises. Police recovered 20 unfired rounds of 9mm ammunition from Robert Harris. Clothing and other effects linked to the robbery were found smoldering in the fireplace. At about 6:20 p.m. that evening, police questioned Daniel Harris who gave a voluntary statement describing in detail the abduction and the killing of the victims by the defendant. Officers went to the scene of the murder and discovered the two murdered victims.

When initially interviewed by authorities, the defendant admitted robbing the bank but denied kidnapping the youths or being responsible for their murders. He later indicated to authorities that his brother, Daniel, had furnished the stolen automobile. The defendant continued to deny any involvement in the murders, indicating that it had been his brother who had suggested the robbery while they were in Porterville, California.

The San Diego District Attorney's Office filed felony charges of auto theft, kidnapping, murder and burglary against the defendant. The U.S. Attorney's Office filed bank robbery charges against him. On March 6, 1979, Robert Alton Harris was convicted in San Diego County, Superior Court of two counts murder in the first degree with special circumstances, and kidnapping. Co-defendant Daniel Marcus Harris was convicted of kidnapping and sentenced to six years in state prison. He was discharged in 1983.

EXECUTION:

Robert Alton Harris was executed April 21, 1992 in the gas chamber at San Quentin State Prison - the first execution in California in 25 years.

For his last meal, Harris requested and was given two large pizzas, a bucket of fried chicken, and ice cream. At 6:01 a.m., Harris was escorted into the gas chamber. The execution order was given at 6:07 a.m., and Harris was pronounced dead at 6:21 a.m. The body was removed from the chamber at 7 a.m. and left the grounds at 8:15 a.m.

The Harris execution was scheduled for 12:01 a.m. on the morning of April 21, but a series of four stays issued by individual federal judges delayed the execution until just after 6 a.m. In its order vacating the fourth stay of execution, the U.S. Supreme Court stated, "No further stays of Robert Alton Harris' execution shall be entered by the federal courts except upon order of this court." According to Warden Daniel Vasquez, Harris' last words were: "You can be a king or a street sweeper, but everyone dances with the grim reaper."

PRIOR RECORD:

(08-04-75) SERVED 3 YEARS IN FLORIDA AS A JUVENILE: PETTY LARCENY; AUTO THEFT; ESCAPE.

P192.1 - VOLUNTARY MANSLAUGHTER. PAROLED JAN. 1978

On Tuesday, April 21st 1992, 39 year old Robert Alton Harris was put to death in the gas chamber at San Quentin Prison in California's first execution for 25 years. He had been sentenced to die for the particularly brutal killing of two teenage boys in 1978 who's car he had hijacked for use in a bank robbery.

The execution had originally been scheduled for 12.01am, half an hour after the first stay was overturned, but was then postponed for nearly four hours while courts considered applications claiming that execution by lethal gas was cruel and unusual punishment under the 8th Amendment to the Constitution. On that issue, a federal judge ruled that the execution had to be filmed to see the extent of Harris's suffering and a camera was mounted on a tripod outside the gas chamber. The execution was re-scheduled for 4.01am. Shortly before 3am, he got dressed in new jeans and a blue prison shirt. He was strapped into one of the two chairs in the gas chamber and had been waiting for 12 minutes for the execution to be carried out when an unexpected call came through saying a US appellate judge had granted a further stay. Some of the 49 official witnesses, who included "12 reputable citizens" selected by the warden, spoke of their horror and astonishment as Harris was unbuckled and led away by guards.

Four stays of execution had been granted and overturned in nine hours. But the Supreme Court finally issued an unprecedented order that no further stay would be valid unless issued by the court itself. Shortly before 6am, Harris was again led back to the chamber. He was described as looking resigned to his fate and was fully co-operative with the guards who led him the 15 paces from his cell. He was strapped into the metal chair and a stethoscope taped to his chest. The door was closed and sealed and at 6.05am, he began breathing deeply, staring ahead and attempting to mouth the words "it's all right" and "I'm sorry." At 6.07. a prison official operated the lever, slowly lowering the pellets of cheesecloth-wrapped sodium cyanide into the small vat of sulfuric acid beneath the chair to create the lethal hydrocyanic gas. Harris took a number of deep breaths and for several minutes appeared to gasp and twitch convulsively. His head snapped back and then dropped as he strained against the straps. After a minute his hands seemed to relax. His mouth was open and his face flushed and turning blue. Three minutes later there was a cough and a convulsion.

At 6.21 a.m. (eleven minutes after the start) Warden Daniel Vasquez declared Harris dead. and announced the words Harris had chosen to be remembered by. Taken from the film Bill and Ted's Excellent Adventure, they were: "You can be a king or a street sweeper. But everybody dances with the grim reaper." Christina Crystal who witnessed the execution for UPI, said afterwards: "It wasn't as hard to watch as I thought it would be the second time around. Harris seemed to lose consciousness after about one-and-half minutes." She, and other witnesses, said he looked a very different and more solemn Robert Harris than two hours earlier. After the execution the exhaust fan is switched on to remove the hydrocyanic gas and then the dead body is sprayed with liquid ammonia to neutralize any remaining gas. The last stage in the process is "Procedure 769" in which staff wearing gas masks and rubber gloves remove the body having first ruffled the hair to ensure that no gas is trapped in it.

Background.

Robert Harris had a violent and unhappy childhood that started in the womb. He was born three months premature after his mother was brutally assaulted by his father who kicked her in the stomach. Both parents inflicted frequent beatings on young Robert who suffered a broken jaw at the age of two after a punch form his father. For sport, his father would load a gun and tell the children they had 30 minutes to hide outside the house, after which he would shoot them down like animals.

Eventually Harris senior was jailed for sexually molesting his daughters, while the mother smoked and drank herself to death. Robert Harris was twenty five years old when he shot and killed two San Diego teenagers. Prosecutors told the jury that Harris taunted the victims before they died, laughed at them after he pulled the trigger, then calmly ate the hamburgers they had bought for lunch.

Executions Out of the Ordinary: Robert Alton Harris

In 1979 Harris was sentenced to death for the murder of two teenage boys whose car he had stolen. He was executed on 21 April 1992 in the gas chamber at San Quentin State Prison in California, the state's first execution for 25 years.

Harris's last words, quoting a Keanu Reeves film, were: "You can be a king or a street sweeper, but everyone dances with the grim reaper." A federal judge ordered the execution to be filmed so as to decide whether the gas chamber was a "cruel and unusual punishment". The tapes were later destroyed.

"A Tale of Two Criminals: The Primal Roots of Violence," by David Chamberlain, PhD.

David Edwin Mason and Robert Alton Harris spent their final years on Death Row before they were gassed by the state of California in 1991 and 1993 for heinous crimes of violcnce. Their brographies expose the primal roots of violence.

The dossier on Mason reveals him to have been a sad and lonely child whose mother tried to induce a miscarriage to avoid having him in the first place - and who never was allowed to forget that he was unwanted. Older sisters describe a household where hugging or laughter were prohibited, and in which young David was beaten almost daily with his father's belt or, in the hands of his mother, "a switch or pancake turner." When only five, the child attempted suicide by swallowing a bottle of pills and set his clothing on fire. At eight he was taking out his hostility by setting fires at church or at school. The parents took to locking him away in a room they called "the dungeon" - a bedroom with the windows nailed shut. Persistent bedwetting, and worse, were countered by parading David with the soiled clothes wrapped around his head. At age 23, Mason went on a nine-month killing spree in the neighborhood where he had grown up, strangling four elderly men and women. He later confessed that it was "something I have always wanted to do."

Robert's beginnings were striklngly similar. He was born three months premature after his mother was kicked so brutally in the abdomen by an angry husband, that she began hemorrhaging. As in the Mason family, both parents inflicted frequent beatings - the father with his fists, causing a broken jaw when Robert was not yet two. Sitting at the table, if Robert reached out for something without his father's permission, he would end up with a fork in the back of his hand.

For sport, father would load his gun and tell the children they had 30 minutes to hide outside the house, after which he would hunt them like animals. threatening to shoot anyone he found. Like Mason, young Harris soon began showing anger toward animals and people. The senior Harris was jailed for sexually molesting his daughters, while the mother smoked and drank herself to death.

Harris was twenty five years old when he shot two San Diego teenagers to death. Prosecutors told the jury that Harris taunted the victims before they died, laughed at them after he pulled the trigger, then calmly ate the hamburgers they had bought for lunch. Pain and rejection were the foundation stones on which these angry young men tried to build their lives. Violence was a legacy from their parents.

In an editorial on the occasion of Mason's execution, former U.S. Congressman Lionel Van Deerlin of San Diego concluded: "Such persons must be put away, of course. But can society feel comfortable when providing the final touch to a pattern of violence which may literally have begun in the mother's womb?" Congressman Van Deerlin shows rare nsight in connecting events widely separated in time: womb violence and criminal violence. As a society we have naively viewed the earliest period of human development as a "free period" when rules are suspended and there are no consequences for torturous mental and emotional events. This is wishful thinking.

The latest research on fetal and neonatal behavior indicates that all babies are keenly aware of their environment, are fully able to feel pain, and are constantly learning from their experiences. These scientific findings support what the biographies of Mason and Harris reveal so well: violence during pregnancy and birth is the seedbed of a violent society.

Vulnerability to hostility during the primal period continues through a range of flashpoints including discovery of pregnancy, chronic warfare between parents, physical and psychic attacks on the fetus, the multiple traumas ot premature birth, the routine traumas of medical birth including heel lancing for blood samples, needle injections of vitamin K, rough handling in a too cold, too bright environment, and finally, more often than not, exile and isolation from mother and father. Crown these insults and injuries with rejection after birth and you have the formula for personal misery, smoldering resentments, and social explosions.

What can parents do about violence in society? Briefly, they can turn things in a different direction at all the chronological flashpoints: Start with a planned conception, get help to resolve interpersonal problems at the earliest possible time, send lots of loving messages to the baby in the womb, organize for health and fitness to support full-term gestation in utero, and arrange for a non-vioient, natural birth in a context of reassuring touch, where mother's milk is always available and family solidarity is unbroken.

"Vicims of a devastating trauma may never be the same (again) biologically. It does not matter if it was the incessant terror of combat, torture, repeated abuse in childhood, or a one-time experience."

[Psychiatrist Dennis Charney, National Center for Post Traumatic Stress Disorder, Yale University]

PROCEDURE 769 (By Jaap van Hoewijk & Rikkert Boonstra, The Netherlands,35mm, 80')

After a nerve-wracking last minute stay Robert Alton Harris finally walked to his execution in San Quentin on April 21st, 1992 for the murder of two boys he committed back in 1978. For the State of California this was the first execution in 25 years and for 14 years the Harris-case was a top news story on radio and television across the United States. Procedure 769 (which is the administrative name for the death penalty) makes a major contribution to the topical discussion on death penalty by focusing on the people who are witnesses to an execution. The film features a number of people who were present at the time. Among them San Quentin's former warden who supervised the execution, the father, mother and a sister of one of the slain boys, a journalist, official witnesses such as the current sheriff of San Diego, a brother and a far cousin (a Minister from Alabama) of Harris. All of these people had mixed and often very contradictory feelings about watching Harris' execution. Throughout the film, we are made aware of the vital role the media played in the case.

The making of Procedure 769 - On April 21st 1992 Jaap van Hoewijk hears on the radio of the execution in California of someone by the name of Harris. It would be the first execution in the state in 25 years. He hears that the condemned man has been executed in the presence of about 50 witnesses... 50 people were present at the execution. 50 people stood or sat and watched. Who are they and why are they there? Van Hoewijk's curiosity is aroused and he decides to investigate. A few days later he finds out through newspaper reports that the witnesses came from widely different backgrounds. At that moment he realized that this could be a wonderful point of departure for a film: a group of people all watching the same event, but all seeing something different.

But it is not easy to find these witnesses. No one in the US is willing or able to help track these people down. Quite coincidentally, an organisation opposed to executions sends a fax from van Hoewijk on to the Death Penalty Information Center in Washington DC. Michael Kroll, director of this centre, responded. He happened to attend the execution as a friend of Harris, but he refuses to cooperate with the film. The memory of that horrific night when Harris was killed is too painful. After many months and many letters, Kroll is finally willing to cooperate and help with the project. He puts the filmmaker in touch with Randall and Leon Harris, respectively the brother and cousin of Robert Harris. Randall Harris has never previously wanted to talk to a reporter.

Slowly but surely, van Hoewijk comes into contact with the other witnesses and to his amazement, almost all the witnesses he finds agree to take part. San Quentin State Prison director Daniel Vasquez however refuses to speak to the filmmaker. However when the crew is already shooting the film, Vasquez calls van Hoewijk by phone. He has a different job now and wants to talk.

"Hoewijk has made one of the best films on the subject ... gripping all the way ... aa real eye-opener!" - Filmnews.

"Deadly Compromise," by Joshua Green.

* * * * *

In 1978, Robert Alton Harris, a 26-year-old paroled murderer, kidnapped two California teenagers in the parking lot of a fast-food restaurant. He drove to a remote canyon where he killed the two boys, then finished the hamburgers they'd been eating and drove off. Harris was later caught robbing a bank. He confessed to the murders and was sentenced to death in 1979. Yet he managed to delay his execution for 13 years by repeatedly manipulating the appeals system. Harris and his lawyers challenged the quality of his psychiatric evaluation, claimed California's gas chamber was unconstitutional, and argued that the death penalty discriminated against younger killers, males, and those who killed whites. Each of these claims stalled his execution. In a flurry of last-minute appeals, the Supreme Court overturned four separate stays on the night of Harris' execution before it took the unprecedented step of forbidding lower courts to issue further stays. By the time he was finally put to death in 1992, Harris had managed to get more than 20 appeals.

Bates Magazine - Letters to Editor

Righting a Lopsided Argument

I feel compelled to register the significant level of concern I felt over Michael Laurence's essay, "Death Be Not Proud" (summer 1997). There is an obligation to balance his one-sided assessment of the death penalty and what can be construed as the magazine's implicit endorsement of these views.

I, too, come from a Jewish family, from a family whose ranks were decimated by an evil regime bent on extinguishing an entire people from the earth. Reading Mr. Laurence's veiled attempt to link the self-imposed consequences of cold-blooded killers to the plight of the slaughtered and innocent victims of the Holocaust was deeply troubling. This shameful ploy is an insult to the victims by associating their names with the scum Mr. Laurence has every right in the world to defend. Additionally, I do not see any similarity between the hateful Nazi regime and the United States government that helped end their attempt at world domination.

Throughout Mr. Laurence's piece we are offered his insight into the "distortions of the legal system," interpretations of capital punishment as "killing," and the long, agonizing journey that leads to the execution of Mr. Laurence's client, Robert Harris. Apart from perfunctory references to a horrific crime, we are left with the impression that Mr. Harris is as much a victim as anyone. Mr. Laurence is loyal to his client by presenting all the typical excuses for his criminal behavior, but fails to detail that behavior. What would I like to do here is something that is rarely, if ever, done in typically lopsided anti-capital punishment arguments: represent the victims.

In 1978 Robert Alton Harris abducted two teenagers from a San Diego fast food restaurant and shot them down for absolutely no reason. Through his own admission, he taunted them before they died, laughed after shooting each of them in the head, and calmly sat down beside the bodies and finished the lunch he had stolen from the victims before ending their lives.

Whether Robert Harris had a terrible upbringing or not, did too many drugs, hung out with the wrong crowd, was messed up on Twinkies, or whether other excuses were offered is, I feel, irrelevant. He snuffed out two young, vital lives that no excuse in the world can restore. Why should extenuating circumstances be argued in cold-blooded cases of murder such as this? Does any extenuating circumstance make these two boys less dead? Charles Manson, too, had a pretty rough upbringing. Does that somehow negate the carnage he inspired? What happened to the concept of responsibility for one's actions? Even the term "not guilty by reason of insanity" is legalistic insult to a murder victim. What about guilty by reason of insanity?

Mr. Laurence should also be cautious of overstepping his professional capabilities and personal experiences by claiming to speak for the families of his client's victims. "Capital punishment is not a panacea for the loss of a loved one," he asserts, and "it is a lie" that execution will offer closure. He is, unfortunately, unqualified to speak for these people and, moreover, clearly uninformed. The families of the two young boys all requested to be present at Robert Harris's execution "to see justice done after fourteen years." Linda Herring Baker, whose brother was slain by Harris, expressed the following after witnessing the execution: "He didn't want to give us the satisfaction of watching him die in pain, so he just sat there and died. He struggled a bit, but not enough for me unfortunately: I would have liked to see him struggle more for what he did."

Another point to which I must object is the assertion that the death penalty is not a deterrent. Make no mistake that it certainly is a deterrent. Robert Alton Harris will never again cut short the life of another young person or ruin the remaining years of countless family and friends. We are all safer with this type of person off the planet. I have never bought the argument that the death penalty should be measured by its ability to deter others from committing similar crimes. (How could that truly be measured, anyway?) People still run red lights even though our society penalizes such behavior. Does this mean fines do not work and they should be abolished?

Further, to assert that life in prison is an acceptable alternative to capital punishment challenges reality. We would all like to take comfort in the naive belief that once a convicted murder goes off to prison he is subject to a harsh daily routine on the rock pile, making little ones out of big ones. However, the term "life in prison" is either wishful thinking, a sadly apt description, or simply an additional mockery toward a murder victim's family and the departed's memory. Thanks to the advent of minimum security, work release, parole hearing for "lifers," commutations, and "good behavior" credits and the like, "life in prison" is all but a hollow and impotent threat to the many who eventually walk free from their life sentences.

I could certainly go on here, but I will not. There are many more points that I object to in Mr. Laurence's article. However, my objective is not to "gang up" on him. His motives seem pure and his work honest. But there are people out there with much less virtuous intent who are a blight on society for the fear, destruction, and devastation they wrought on people's lives. They abrogate their rights of protection by a society whose very protection they threaten. The stilled voices of their victims must never be forgotten in our zeal to apply fairness where fairness does not exist.

Martin E. Levenson '81, Danvers, Massachusetts

Famous Last Words: Robert Alton Harris: "You can be a king or a street sweeper, but everyone dances with the Grim Reaper." (Robert Alton Harris, put to death in California's gas chamber on April 21, 1992, for the slayings of two teenagers)

Canadian Federation of Humane Society

Robert Alton Harris murdered two 16 year old boys, doused a neighbour with lighter fluid and tossed matches at him. His initial run-in with police was for killing neighbourhood cats.

People v. Harris, 171 Cal.Rptr. 679 (Cal. 1981) (Direct Appeal).

Defendant Robert Alton Harris appeals from a judgment imposing the death penalty following his conviction of kidnaping, robbery and first degree murder of John Mayeski and Michael Baker. Defendant was also convicted of receiving stolen property and of possession of a concealable firearm by an ex-felon. We affirm the judgment.

GUILT PHASE - In May or June of 1978 defendant first asked his brother Daniel for help in a planned bank robbery. On 2 July 1978, Daniel stole a .22 rifle and a .9 millimeter pistol from the home of Jim Corbin, a neighbor. While Daniel and defendant were in the house, apparently in Corbin's absence, defendant stated they needed weapons for the bank robbery and asked whether there were any in the house. Daniel then showed defendant the guns and took them from the house.

The brothers left Visalia for San Diego that evening. The next morning, 3 July 1978, they purchased ammunition, went to a nearby rural area and practiced firing the weapons by shooting at trees while running and rolling a drill they considered appropriate in preparing for the bank robbery. The following morning, 4 July 1978, defendant and his brother purchased more ammunition as well as knit caps, in which they burned eye holes, to serve as masks in the bank robbery. That afternoon they went to the Miramar Lake area, near Mira Mesa, for more shooting practice. The next morning, 5 July 1978, having decided to steal an automobile for use as a getaway car, the brothers spotted a green Ford in a grocery store parking lot directly across Mira Mesa Boulevard from the bank. John Mayeski, 15, and Michael Baker, 16, were in the car eating hamburgers. Assuring Daniel "nobody is going to get hurt," defendant walked over to the Ford, pulled the pistol from his waistband, and got in the back seat. With Daniel following in defendant's car, the Ford was then driven out Mira Mesa Boulevard toward Miramar Lake and the fire trail where the brothers had been the day before.

At the foot of the fire trail defendant and Daniel parked the cars and forced the two boys to walk up the trail at gunpoint. Defendant was carrying the pistol and Daniel the rifle. Defendant told the boys their car was going to be used in a bank robbery but that no one would be hurt. Defendant asked the boys whether there was any rope in their car. The boys replied there was not but said they would walk to the top of the hill, wait until the brothers drove back to Mira Mesa, and then report the Ford as stolen, giving the police a misleading description of the thieves. Defendant voiced approval of this suggestion.

The boys then began walking up the hill. Suddenly, Daniel heard a shot. Turning around, he saw John Mayeski fall to the ground. Defendant had shot the boy in the back with the pistol. Defendant fired another shot into the boy's head, then ran after Michael Baker. Finding the Baker boy crouching and screaming in the brush, defendant shot him four times. Defendant then went back to the fallen Mayeski boy and fired a shot point-blank into his head. Finally, defendant picked up the rifle dropped by Daniel and shot John Mayeski yet again. The brothers then left the murder scene and drove back to the house defendant shared in Mira Mesa. There defendant ate the remainder of the dead boys' food and laughed at Daniel for not having the stomach to join him. While the brothers continued preparing for the bank robbery, defendant laughed and giggled about shooting the boys, saying he had blown Michael Baker's arm off. Defendant also amused himself by imagining what it would be like to be a police officer and to report the boys' deaths to their families. When Daniel noted there were fragments of flesh on defendant's pistol, apparently from the point-blank shot fired into John Mayeski's head, defendant laughed, commented he had really blown the boy's brains out, and then flicked the bits of flesh into the street.

Later the same day the brothers robbed the bank. They were quickly arrested for the bank robbery when a witness, who followed them from the bank to defendant's house, called the police. The brothers were arrested at 1:05 p. m. on 5 July 1978. At 4 p. m., Daniel first informed officers of the murders; at 6:30 p. m., Daniel confessed in a tape-recorded statement, placing the blame primarily on defendant. At 7 p. m., having listened to portions of Daniel's statement, defendant himself confessed to Officer Fred Dreis. At midnight, the brothers were interviewed by Dr. Wait Griswold, a psychiatrist. On 7 July 1978, at 11:20 a. m., defendant repeated his confession in detail to Johnny Bolden, a criminal investigator for the San Diego County District Attorney's office. Finally, at 1 p. m. on 7 July 1978 an hour before he was arraigned defendant confessed to Officer Ronald Newman.

When one of defendant's sisters visited him in jail on 15 July 1978, he told her, "Now, I guess because I killed those two boys, they were only 16 years old, then robbed the bank and kidnaped them was because I really wanted to die." Defendant's last extrajudicial confession was made to a fellow inmate. Asked why he had killed the boys, defendant answered, "I couldn't have no punks running around that could do that (identify him), so I wasted them."

Testifying in his own behalf at the guilt phase, defendant admitted the bank robbery but denied kidnaping, robbing and murdering the two boys. He explained his pretrial confessions as attempts to protect his brother.Daniel testified for the People in return for being permitted to plead guilty to one count of kidnaping. His testimony was corroborated by a series of extrajudicial statements made by defendant.

PENALTY PHASE - In 1975 defendant pleaded guilty to voluntary manslaughter of James Wheeler. Wheeler and his wife lived with defendant's brother Ken and his wife; defendant and his wife lived next door. At the scene, defendant admitted beating Wheeler to death but claimed he had done so to protect the victim's wife when her husband threatened her with a knife. Later, just as in the present case, defendant repudiated his confession and sought to shift the blame to his brother, claiming Ken had killed Wheeler and that he had confessed to protect Ken. This is the story defendant told when testifying in the present proceeding. However, defendant's former wife and his niece testified defendant, without provocation, beat Wheeler to death while mockingly claiming to teach his victim self defense. During this sadistic attack defendant also cut off Wheeler's hair and threw matches at him after squirting him with lighter fluid. Defendant's former wife admitted she lied to the grand jury investigating Wheeler's death explaining defendant had threatened to kill her too if she did not support his story.