Executed August 31, 2001 by Lethal Injection in North Carolina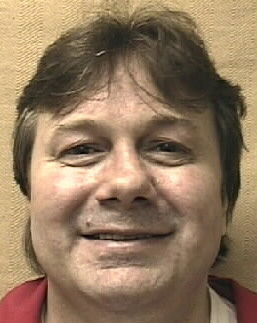 48th murderer executed in U.S. in 2001
731st murderer executed in U.S. since 1976
3rd murderer executed in North Carolina in 2001
19th murderer executed in North Carolina since 1976
Since 1976

Date of Execution

State

Method

Murderer
(Race/Sex/Age at Murder-Execution)

Date of
Birth

Victim(s)
(Race/Sex/Age at Murder)

Date of
Murder

Method of
Murder

Relationship
to Murderer

Date of
Sentence

731

08-31-01

NC

Lethal Injection

Ronald Wayne Frye

W / M / 34 - 42

10-09-58

Ralph Childress

W / M / 70

01-24-93

Stabbing w/scissors

Landlord

11-15-93

Summary: Ronald Frye was convicted on November 15, 1993 of first-degree murder and robbery with a dangerous weapon in the slaying of his landlord, Ralph Childress. Frye was convicted in 1993 of stabbing his landlord to death with scissors. On the day of the murder, Frye returned to his home and found a note from Childress telling him the trailer had been leased and he needed to move out. The next morning, Childress was found dead - stabbed multiple times - with a pair of scissors in his chest.

Citations:


Internet Sources:


North Carolina Department of Correction

Ronald Frye was convicted on November 15, 1993 of first-degree murder and robbery with a dangerous weapon in the slaying of his landlord, Ralph Childress. Frye was convicted in 1993 of stabbing his landlord to death with scissors. On the day of the murder, Frye returned to his home and found a note from Ralph telling him the trailer had been leased and he needed to move out. The next morning, Ralph was found dead - stabbed multiple times - with a pair of scissors in his chest. Ralph was found with scissors jammed into his heart and his throat cut. DNA testing linked Frye to blood found on the man's mattress and linked Ralph to blood on Frye's jacket, said Assistant District Attorney Jason Parker. "He deserves it," Parker said, recounting events that led to Frye taking $5,000 from Childress and spending it on drugs in 3 days. "They're trying to say one of his lawyers was drunk," Parker said. "I sat in court with him for three weeks and never smelled a drop." Frye said he never noticed the smell or effects of alcohol on his attorney, Thomas Portwood, but said the two didn't talk much. Parker said defense lawyers did introduce evidence through a psychologist that Frye was abused as a child and abused drugs and alcohol. "You should see what he did to the old man," Parker said. "He tortured him trying to find out where his money was." Christy Hollowell, Childress' niece, said of her uncle, "He was the most wonderful person. He was an invaluable part of my family, who was taken away tragically by the cold-heartedness of Ronald Frye. I have been told Mr. Frye was abused as a child, but my Uncle Ralph did not abuse him," she said. "It is always disheartening to hear about child abuse, but being abused as a child does not give the right to kill as an adult. As sad as it is to say, many children are abused. However, most do not grow up and choose to murder another person," Hollowell said. "Our family has been changed forever by the act of Mr. Frye ... Nothing will ever be the same again because of Mr. Frye's decision to murder Uncle Ralph. It was his decision. He decided that night to murder Uncle Ralph, knowing the consequences that may follow. Giving up his rights and facing the death penalty was a risk he was apparently willing to take," she said.

People of Faith Against the Death Penalty

Background on RONALD FRYE, Scheduled for NC Execution Aug. 31 Action Alert from People of Faith Against the Death Penalty—


He is the child of poor, alcoholic parents. His mother gave him away to complete strangers. His new caretakers whipped him for years. He was separated from his siblings. He was literally a poster child for child abuse. He later turned to alcohol and drugs. He later committed murder. His defense lawyer admits to drinking heavily and being incompetent. His jury heard little about his childhood. Now, he is scheduled for execution. Ronald Wayne Frye was the second of three boys whose parents fought constantly. "When the couple split up, the boys moved with their mother to a tiny rat-infested apartment. Soon, Frye's mother gave up trying to care for her unruly, malnourished children," reports the Charlotte Observer. (See an investigative series at: www.charlotte.com/observer/special/deathpenalty.) "While filling their car at a gas station, Steve and Cleo Ford heard that a Hickory woman was giving her children away. They met Carolyn Frye at a restaurant. She introduced 4-year-old Ronnie and his 5-year-old brother David. Then she handed her boys a bag of candy and announced that the Fords were their new mama and daddy. No papers were signed, no authorities involved. Ronnie Frye became Ronnie Ford." The new family settled into the Ford's home in Hudson, N.C., northwest of Hickory. The boys had not been toilet trained. They could only eat with their hands. "On a trip, the boys bought a souvenir bullwhip, and Steve Ford began using it on the children. Ford beat Ronnie so badly in fourth grade that witnesses reported 'bloody stripes' covered the 9-year-old from neck to ankles. Local police took front and back pictures." The photograph at left is the only remaining photo, showing marks left by the whip's tip as it lashed from behind. Steve Ford was convicted of assault. The Hudson police chief saved the pictures to show at child abuse seminars. "Authorities removed the boys from the Ford's home, splitting up the brothers and sending Ronnie to an orphanage. Both boys cried for days, and now remember the separation as one of their most traumatic moments." As a teen Ronnie Frye turned to alcohol and drugs, then quit high school. Unemployed as a construction worker at age 35, he killed his 70-year-old landlord, Ralph Childress. At trial, Frye's jury would have been merciful had they heard the story of his turbulent life. They never did. Frye's attorney, Tom Portwood of Morganton, has admitted to drinking as an alcoholic for years up to the trial and through other death penalty cases as well. (Portwood has a record of two DWI convictions and admits to drinking at least 375ml of 80-proof rum, about 12 shots, every day for months before and during Frye's trial and more on weekends.) Portwood never interviewed any of Frye's family, friends, teachers, or social workers. Two members of the jury have now signed affidavits that they would not have voted for a death sentence had they known the details of Frye's childhood.

National Coalition to Abolish the Death Penalty

Ronald Frye Scheduled Execution Date and Time: 8/31/01, 2:00am EST On August 31st, 2001, the State of North Carolina will seal Ronald Frye's fate, and, much like everyone else that has ever been charged with the responsibility of Mr. Frye's life, the state will not only choose to neglect every element of fairness and decency towards him, but will also intentionally deny him his rights by executing him. The story of Ronald Frye is one of unbelievable abuse and neglect. He entered the world on October 9, 1958, the son of Benson and Caroline Frye, but soon after his birth Ronnie's father left home, and the young child was left to a woman who suffered from alcoholism and had no desire at all to care for him or his brother. Quite shockingly, Ronnie's mother shirked her responsibilities by handing the two baby boys to a couple she encountered randomly at a gas station, and the couple, Steve and Cleo Ford, took custody of four-year-old Ronnie and his brother through no legal process. Ronnie's life, sadly, did not improve upon such a seemingly timely act of generosity. Steve Ford, who was also an alcoholic, routinely whipped Ronnie and his brother using a bull whip, and the particularly cruel and vicious beatings left Ronnie severely scarred and lashed all over the surface of his body. It was not until teachers at Ronnie's school finally took notice of the copious wounds that marked the young boy's body and bravely interceded that law enforcement arrested Steve Ford and charged him with child abuse. The photographs of Ronnie's slashed and beaten flesh were so compelling that they were used to train police officers in recognizing and treating child abuse cases. Ronnie's luck seemed perversely haunted by the specter of alcoholism and neglect. After removing Ronnie from the custody of the Fords, the courts placed Ronnie and his brother with their biological father, who had abandoned them at birth. Ronnie's father drank very heavily, and he too would beat and bruise them. However, as a psychologist would later confirm, nothing made matters as bad as the beatings of Carlene, Benson Frye's latest wife. Benson Frye not only beat Carlene so severely that she one day fled permanently, but he would also wake Ronnie and his brother from bed to force them to watch the beatings. Being forced to be witness the abuse caused deep and undeniably serious feelings of helplessness, and the resulting mental and emotional damage was immeasurably extensive. Moreover, Carlene's eventual departure left the boys without any true caregiver. Their father was consistently drunk and away from home, and soon the boys were discovered, living in maggot-invested filth and begging local merchants for food.


Ronnie's childhood never offered him any comfort or direction. He never received proper treatment and began to "self-medicate" using illegal drugs. He entered adulthood without any substantive foundation, and soon became an addict of drugs and alcohol himself, living in a trailer home without heat or water, alone and misdirected. Court psychologists would later discover that Ronnie's upbringing had left him with three psychiatric disorders—in addition to child abuse syndrome, and a "diminished capacity to know right from wrong and to conform his behavior to social requirements." However, this discovery was too late for Ronnie or for Randolph Childress, whom Ronnie is accused of murdering in January of 1993. Ronnie had been repeatedly asked by Mr. Childress to leave the trailer home that he was renting from Mr. Childress in the weeks prior to the murder, but Ronnie, strapped for cash and subject to a costly crack cocaine habit, pleaded otherwise and was able to delay his eviction until the unfortunate murder that took place in January.


Ronnie Frye was tried and convicted of murder, and sentenced to death by a jury in North Carolina. None of the historical evidence, namely Ronnie's tumultuous and harrowing childhood, was presented in his defense during the sentencing stage. In fact, Ronnie's fate was sealed again by an individual who, charged with fending for the helpless man, instead neglected his duties and handed Ronnie over to an unjust fate. Tom Portwood, Ronnie's attorney, admitted to drinking approximately 375mL of 80-proof rum every day during Ronnie's trial. He had a known history of alcohol abuse, and was quite evidently under the influence of alcohol during trial proceedings. A further examination of Portwood's handling of the case revealed gross negligence in research, a complete omission of family history, and infractions that jeopardized Ronnie Frye's case outside of the courtroom, such as a Mr. Portwood's DWI violation. Much more importantly though, are the two signed affidavits, submitted by jurors who participated in his trial and sentencing, stating that they would not have chosen the death penalty had they been informed of Mr. Frye's past. North Carolina law requires a unanimous decision in order for a death sentence to be reached: frankly, just one of those jurors would have been the difference between the life and death of Ronald Frye. Yet there is an even larger picture of injustice in which Ronnie Frye's case is embedded. Currently, there is no effective measure for granting clemency (pardons) in the state of North Carolina. This situation follows a decision to stay the execution of Robert Bacon, another death row inmate, indefinitely, pending a further investigation into the capacity of Governor Michael Easley to grant pardons. Easley is the former North Carolina attorney general, and not only oversaw many of the cases whose sentences will transpire during his term in office, but also pushed very hard for the death penalty in those cases deemed eligible for capital punishment.


Most oddly and irrationally, the state has not granted indefinite stays for all upcoming executions, and Ronnie Frye's case is one of two that has been confirmed for next month. The decision to uphold his execution date follows another judge's decision to suspend it, and it does not seem that any immediate resolution will be reached. The life of Ronnie Frye is again in the hands of those whose intentions seem to lie perversely beyond the limits of justice and fairness. There appears no rational cause for the district and state courts to expedite his date and the date of another inmate, Clifton White. As Marilyn Ozer, Ronnie's current counsel, expressed in reference to the courts, judges, and governor: "They seem obsessed." Ms. Ozer further believes that although every case in North Carolina deserves and is owed a stay under the current circumstances, Ronnie's case "seems particularly atrocious" and provides an example of complete failure of the system. It is hard to imagine that Ronnie Frye has ever been able to make a reasonable decision in his life. His destiny has been dictated by outside forces too vicious and inept to care and, now, too careless and unjust to put an end to violence and abuse. Do not allow the North Carolina Courts to ignore Ronnie's past. Do not allow the Governor to let his personal obsession supercede the cause of justice. Do not let the state kill Ronnie Frye, in the name of violence, ignorance, and carelessness

Beyond a Reasonable Doubt?
Amnesty International Urges Halt of Execution for Man Whose Lawyer was Intoxicated During Trial


Amnesty International USA (AIUSA) today called on North Carolina Governor Michael Easley to grant clemency to Ronald Frye, scheduled to be executed this Friday, August 31. Sentenced to die in 1993 for the murder of his landlord Ralph Childress, Frye received severely flawed counsel during his trial. Frye's defense lawyer was an alcoholic who admitted to consuming approximately 12 shots of 80 proof rum per day during his seven months of work on Frye's case. Three years later the defense lawyer was removed from a different capital case because of his alcohol consumption. "Because the lawyer was drinking rather than working to save his client's life, the jury heard only the most minimal account of the mitigating circumstances in Ronnie Frye's case," said Ari Kohen, AIUSA's State Death Penalty Coordinator for North Carolina. "The jury was unaware that Frye was beaten severely while in foster care as a young child, and forced to witness his biological father beat up his stepmother. Instead, the jury was left to guess whether Frye's story was the truth, because the readily-available corroborating evidence of the severe abuse he endured was not presented in court." "This case provides further evidence that our nation's death penalty system is unjust," said Sue Gunawardena-Vaughn, AIUSA's Director of the Program to Abolish the Death Penalty. "The governor's power of executive clemency exists to compensate for flawed cases like that of Ronald Frye. We urge Governor Easley not to promote this miscarriage of justice and continue the cycle of violence by allowing this execution to proceed." As an organization that works with and on behalf of victims of violence, Amnesty International has great sympathy for the family of Ralph Childress. However, Amnesty International opposes the death penalty in all cases, believing that killing prisoners offers no constructive contribution to society's efforts to combat violent crime.