Executed August 30, 2000 by Lethal Injection in Virginia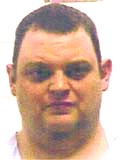 66th murderer executed in U.S. in 2000
664th murderer executed in U.S. since 1976
5th murderer executed in Virginia in 2000
78th murderer executed in Virginia since 1976
Since 1976

Date of Execution

State

Method

Murderer
(Race/Sex/Age at Murder-Execution)

Date of
Birth

Victim(s)
(Race/Sex/Age at Murder)

Date of
Murder

Method of
Murder

Relationship
to Murderer

Date of
Sentence

664

08-30-00

VA

Lethal Injection

Russel William Burket

W / M / 25 - 32

01-05-68

Katherine Tafelski
W / F / ?
Ashley Tafelski
W / F / 5

01-14-93

Beaten with crowbar

Neighbor

01-19-94

Summary:
Russel W. Burket used a rusty crowbar to beat and crush the skulls of Katherine Tafelski and her 5 year old daughter, Ashley, in their Virginia Beach home in 1993. Katherine's husband was a Navy Seal away on a mission. Burket also sexually assaulted the mother with the tool. Burket also wounded Andrew Tafelski Jr., 3, and Chelsea Brothers, 3, who had been spending the night at the Tafelski home. Semen on a washcloth found at the scene was tested and showed it was consistent with Burket's DNA profile, shared with only 7.8 % of the Caucasian population. Burket confessed to the crimes and pled guilty to the charges. Burket had no prior criminal record and unsuccesfully asserted a "mental" defense at sentencing.


Citations:
Burket v. Commonwealth, 450 S.E.2d 124 (Va. 1994) (Direct Appeal).
Burket v. Virginia, 514 U.S. 1053 (1995) (Cert. Denied).

Internet Sources:


Virginians for Alternatives to the Death Penalty

In 1994, Russel Burket pled guilty to the capital murders of Katherine Tafelski and her five year old daughter, Ashley Tafelski. Burket never graduated from high school, but was skilled in automotive repairs and had held various jobs such as a construction worker and a bagger at a grocery store. Burket had no prior criminal record before this charge.

He had a history of mental problems including attempting to commit suicide twice. Two clinical psychologists testified on Burket's behalf, Dr. Thomas Ryan and Dr. Gary Hawk. Under oath Dr. Ryan stated that Burket had "intellectual abililties`in a low average to average range." In addition Ryan testified that Burket could not perform well in several academic areas including reading, writing and math. Dr Hawk opined that Burket has a severe form of dyslexia, and that he suffered from dysthymia, which is a form of persistent mild to moderate depression. However, despite the mitigating testimony of these two doctors, the judge found the Commonwealth's psychiatrist, Dr. Mansheim, more credible and agreed that the only mitigating factor in the case was that Burket held no previous criminal record. The judge concurred with Dr. Mansheim that Burket's mental condition did not effect the case and sentenced Burket to death.

Burket appealed the judge's ruling that the Dr. Mansheim was a more credible witness than his two experts. Claiming that Dr. Mansheim lied under oath in regards to whether he read over several documents pertaining to the Burket case before interviewing Burket, Burket believes that his experts are more credible that the prosecution's. The Appellate Court disagreed and upheld the sentence.

Burket also contended that his confession was taken illegally. Before confessing to the crimes, Burket stated, in the presence of detectives, "I'm gonna need a lawyer." He felt that at that moments he should have been read his Miranda rights and a lawyer

Russel W. Burket was convicted of killing his neighbor and her 5-year-old daughter. Burket, 32, was convicted of using a rusty crowbar to beat and crush the skulls of Katherine Tafelski and her daughter, Ashley, in their Virginia Beach home in 1993. He also sexually assaulted the mother with the tool. Burket also wounded Andrew Tafelski Jr., 3, and Chelsea Brothers, 3, who had been spending the night at the Tafelski home. Burket was a neighbor. Tafelski's husband, Andy Tafelski, a Navy SEAL, was away from home when the slayings occurred. Spermatazoa on a washcloth found at the scene showed it was consistent with Burket's DNA profile, shared with only 7.8 % of the Caucasian population.

The Lamp of Hope (Associated Press & Rick Halperin)

A man who killed a Virginia Beach woman and her 5-year-old daughter was executed Wednesday night after Gov. Jim Gilmore denied a request for clemency. Russel W. Burket, 32, was put to death by injection at the Greensville Correctional Center. He was pronounced dead at 9:07 p.m. Burket, asked if he had a final statement, shook his head and said nothing. Burket's execution originally was set for June 21, but the U.S. Supreme Court granted him a stay 75 minutes before he was scheduled to die. 8 days later, the court refused to hear his appeal.

Anthony A. Protogyrou, Burket's lawyer, sent Gilmore a letter Monday seeking clemency. Protogyrou said Burket is mentally disabled and wasn't thinking correctly when he pleaded guilty to the crime in 1994. "That was when he was still seeing monsters in his cell," Protogyrou said in a telephone interview. Burket's lawyers also asked for a retest a blue washcloth that was found at the crime scene containing traces of semen. Previous testing matched DNA from the semen to about 8 % of all white men, including Burket and his brother, Lester Burket Jr. Lester Burket was questioned by police about the 1993 slaying but was never charged. Gilmore said further DNA testing was unnecessary, given the previous testing, Russel Burket's continuing admission of guilt and "his insistence that no one else was involved."

Protogyrou said the two brothers, along with their mother and father, met for about four hours earlier Wednesday. The Rev. Bobby West, a Roanoke minister who has been counseling Burket, said the condemned man was in a "good frame of mind" and understood what was about to happen. "There's nothing else to do to prepare," said West. "He has repented all his sins." West said Burket was relieved when Gilmore denied the clemency request. "That's what I wanted," he quoted Burket as saying. Burket's parents had visited with their son twice a day since he was moved from Sussex I state prison to Greensville Correctional Center on Saturday.

Burket was convicted in 1994 of using a rusty crowbar to crush the skulls of his next door neighbor, Katherine Tafelski, and her daughter, Ashley. He also sexually assaulted Katherine Tafelski with the metal bar. Before his original execution date was postponed, Burket opted for the electric chair over lethal injection because it was "his way of ending a life he hasn't wanted," Protogyrou said in June. Burket has attempted suicide several times, Protogyrou said. "Now he's having the state do what he's always tried to do," Protogyrou said.

Former Virginia Beach Commonwealth's Attorney Robert Humphreys, who prosecuted Burket, never thought Burket was mentally ill. "I always thought he was pretty cagey for someone who's supposed to be substandard,'' Humphreys, now a judge, said in a 1998 interview.

Burket becomes the 5th condemned inmate to be put to death this year in Virginia and the 78th overall since the state resumed capital punishment in 1982. Only Texas, with 231 executions, has put more condemned inmates to death in the USA since the re-legalization of the death penalty on July 2, 1976. Burket becomes the 66th condemned inmate to be put to death this year in the USA and the 664th overall since America resumed executions on January 17, 1977.

Beach Man Scheduled To Die


A Virginia Beach man is scheduled to be executed Wednesday night. Russell Burket is on death row for the 1993 murders of his neighbors Katherine Tafelski and her 5-year-old daughter Ashley. Burket was supposed to be executed in June, but the U.S. Supreme Court stopped it. Burket's lawyers are again trying to halt the execution. They want to postpone the execution for new DNA testing.

High Court Grants Stay


A convicted killer gets a stay of execution just 75 minutes before he is scheduled to die by lethal injection. The U.S. Supreme Court granted the stay for Russel Burket, who's on Death Row for the 1993 murder of Katherine Tafelski and her 5-year old daughter, Ashley. Earlier in the day, Governor Jim Gilmore granted a request from Burket's lawyer that his client die by lethal injection and not in the electric chair as originally planned. The Supreme Court granted the stay based on a petition Burket's attorneys had filed with the court. The execution has been put on hold until the court considers the petition. The high court's stay comes one day after the Virginia Supreme Court rejected Burket's appeal claiming he was denied adequate representation by his trial lawyers.

Convicted Murderer One Step Closer to Death


The Virginia Supreme Court refused to stop the scheduled execution of a man convicted of killing a mother and daughter in Virginia Beach. Russel Burket is scheduled to die Wednesday night in the electric chair for the 1993 slayings of Katherine Tafelski and her five year old daughter, Ashley. Burket's lawyer has filed an appeal with the U.S. Supreme Court to stop the execution. The court has not released a decision.

Rick Halperin Death Penalty News

Convicted murderer Russel W. Burket wants to die -- now, not years from now, when his legal appeals run out. Burket, who applauded and thanked the judge when he was sentenced to death in Virginia Beach in 1994, has been living on death row in Mecklenburg Correctional Center for 4 years. He admits he committed 2 of the most gruesome murders ever in Virginia Beach -- smashing the skulls of a young mother and her 5-year-old daughter with a rusty crowbar while they slept, then using the crowbar to sexually assault the mother as she lay dying.

Burket, now 30, agrees he should die. He wants an execution date. Three times he has written to a federal judge in Norfolk, begging to be killed. So why is Burket still alive? Because his own lawyers think he is incompetent to make life-or-death decisions. They are blocking Burket's request. Burket is furious. Appeals are useless, he believes. "It's pointless. It's frivolous," Burket said during an interview last week at Mecklenburg. "What? Am I going to sit here 6, 7, 8 years, and then get executed?" Burket said he sees no chance of his sentence being converted to life in prison and doesn't want it. He also sees little hope that an appeals judge will order a new trial. He has followed death row cases in Virginia, and he knows how nearly all of them end. "There are innocent men that the Fourth Circuit (Court of Appeals) and the Supreme Court let die," Burket says. "They kill innocent people. Why the hell would they let me go?" What if a judge did order a new trial? Burket says: "I'd take the stand and confess in front of the jury."

In January, a Norfolk judge ordered Burket examined by a court-appointed psychiatrist to answer the question: Is Burket competent enough to drop his appeals, against his lawyers' advice? In February, Burket refused to cooperate, saying he did not trust the psychiatrist. The judge replied that Burket could not choose his own psychiatrist, so the legal appeals will continue. "Rusty is not competent enough to make that decision," says his local attorney, Andrew A. Protogyrou. "Therefore, the court should allow all his appeals to be heard and to make sure they are done properly and completely..."I respect what he (Burket) wants. I respect when he talks to me. But that is the one place where we disagree. I'm more comfortable letting the court make the decision." Now, a federal magistrate judge in Norfolk is considering a request by Burket's lawyers for a new trial. If that fails, the attorneys will go to the U.S. Court of Appeals. And if that fails, they will appeal to the U.S. Supreme Court. All of which makes Burket livid. "I just pretty much get tired of the lawyers lying to me and the court ignoring me," Burket says. "Why should I stay in this situation and suffer when I don't have to?"

For 6 days in the winter of 1993, the Lake Placid neighborhood lived in fear. On Jan. 15, a killer broke into a house near Oceana Naval Air Station. The killer bludgeoned to death a young Navy wife, Katherine Tafelski, while her Navy SEAL husband was on a mission. The murderer also smashed the skull of Tafelski's 5-year-old daughter, Ashley, killing her, too. 2 smaller children were found alive in the house. One, a 3-year-old boy, had been thrown against a fireplace and suffered a broken jaw. The other, a 3-year-old girl, suffered less serious injuries. For 6 days, police had no suspect. Speculation ran rampant. Was it a neighbor? A friend? Or worse, a random stranger? On Jan. 20, police arrested next-door neighbor Russel W. Burket. Burket confessed after five hours of questioning, but could not explain why he committed the crime. "Maybe I flipped out and didn't know what I was doing," he told police. Later, Burket pleaded guilty and a judge sentenced him to death. As the sentence was pronounced, Burket smiled, applauded and said, "Thank you, sir. Thank you."

Since then, Burket has lived on death row in Mecklenburg. He hates the place. Burket lives in a small cell with a TV, a Walkman and a batch of hunting and truck magazines. He can't read, so books are no solace. He gets out 4 hours a day for meals, plus 3 times a week for recreation. He has no friends, he says. Outwardly, he seems very different from the chubby-cheeked 26-year-old who was sentenced in 1994. His once clean-shaven, boyish face now sports a mustache and beard. His once wild, curly hair is now a crewcut. 1 thing that has not changed is Burket's attitude about the case. Burket's new lawyers say he had lousy legal help before and during the trial. But Burket says he never regretted pleading guilty. "Doesn't matter," he says. "I'd be here anyway." He is also unwavering about the one central fact of his case: "I committed the crime," Burket says. He will not discuss details.

On paper, Burket's lawyers lay out a strong case for appeal. They say Burket is mentally ill. They describe a long history of learning disabilities and psychiatric episodes, dating back to age 7. These include 3 suicide attempts. The lawyers say Burket never understood the case against him or his legal options. Because he can't read or write, Burket had to rely on his lawyer and father to read and explain everything. They say Burket's trial lawyer never explored the possibility that Burket's brother may have committed the crime. They say it was a gross conflict of interest because the lawyer had represented Burket's brother, Lester, in the past, and in the beginning of this case when he was considered a suspect, so that lawyer had no reason to divert guilt from Russel. All of it drives Burket nuts.

All of it is a pack of lies, Burket says. "And I'm not going to lie to save my life." 1st, Burket says, his brother had nothing to do with the murders. He will not elaborate. 2nd, Burket says, he is not crazy. He says he has not taken medication for a year and, despite what the lawyers believe, he has not had a psychotic episode. "So it's in (the lawyer's) best interest, as a liar, to say I need medication," Burket says. "His whole case is: I'm insane, I have no intelligence, my education is too poor to do anything." He asks pointblank: "Am I an idiot?" It is an important question. Federal Judge Raymond Jackson was concerned enough that he appointed a Virginia Beach psychiatrist, Dr. Paul Mansheim, to examine Burket. Mansheim tried. He visited Burket in prison in February, but Burket refused to see him. Burket said he did not trust Mansheim because the psychiatrist had testified against him at the sentencing trial. Too bad, Jackson replied. "Petitioner has no right to select the psychiatrist the court appoints to evaluate him," Jackson ruled.

On March 5, he refused to let Burket withdraw his appeal petition. The state attorney general agreed with that ruling. So did Burket's lead attorney, Mark E. Olive of Tallahassee, Fla. "The court has a responsibility to be sure the person really knows what he's doing," Olive says. Olive noted that Burket is considered 100 % disabled by Social Security. He said the lawyer's Code of Professional Responsibility requires a lawyer who represents a disabled client to exercise his best judgment to protect the client's best interests. Others are skeptical. Virginia Beach Commonwealth's Attorney Robert Humphreys, who prosecuted Burket, says he never thought Burket was crazy. "I always thought he was pretty cagy for someone who's supposed to be substandard," Humphreys says. "It's obvious he's just kind of jerking around the system."

In court in 1994, Virginia Beach Judge Alan E. Rosenblatt said he was impressed with Burket's faculties as he watched Burket's videotaped confession. "Frankly, the defendant on the tape was not who I expected to see," Rosenblatt said at the time. "It does not at all fit the person the defense attorney led me to expect....He was alert, composed, even knowledgeable about legal matters. He never appeared confused, and his verbal ability was quite impressive." Burket blames his current predicament on "a radical anti-death penalty group" -- the Virginia Capital Resource Center, which is leading his legal appeals. "It's either I'm in here forever or...." Burket stops, thinks, then continues. "Hey, I'm not going to be in here forever. They're going to kill me. I just don't care....I'm not afraid to die," Burket says. "I never was."

(source: the Virginia Pilot)

Burket v. Commonwealth, 450 S.E.2d 124 (Va. 1994), cert denied 514 U.S. 1053 (1995).

Burket was indicted by a Virginia Beach grand jury for the capital murder of Katherine A. Tafelski and Ashley Tafelski as part of the same act or transaction. Code §§ 18.2-31 and 18.2-10. He was also indicted for sexual penetration with an inanimate object of Katherine Tafelski, malicious wounding of Andrew J. Tafelski, Jr., malicious wounding of Chelsea Brothers, and statutory burglary. He pled guilty to all the charges against him, reserving his right to challenge on appeal the admissibility of his confession.

Before accepting the guilty pleas, the trial court questioned Burket and made a determination that his pleas were made voluntarily, intelligently, and knowingly. Burket and the Commonwealth submitted to the trial court a stipulation of fact that recited evidence that would have been adduced had the case been tried.

The trial court held a separate hearing to consider evidence before fixing punishments. The trial court also received the probation officer's report in the manner prescribed by law. Upon consideration of the evidence and stipulated facts, the trial court fixed Burket's punishment at death for the capital murder, premised upon findings of both the "vileness" and the "future dangerousness" predicates. Code § 19.2-264.2. The trial court fixed Burket's punishment at a term of life imprisonment for the crime of statutory burglary, a term of life imprisonment for the crime of sexual penetration with an inanimate object, and terms of 20 years imprisonment on each charge of malicious wounding.

We have consolidated the automatic review of Burket's death penalty with his appeal of his capital murder conviction, Code § 17-110.1(A) and (F) and have given them priority on our docket, Code § 17-110.2. Burket has not appealed his non-capital convictions.

THE CRIMES

On January 14, 1993, about 2:00 p.m., Terry Cain placed a telephone call to Barbara Pullman, who is Katherine Tafelski's mother. Cain informed Pullman that Cain's three-year-old daughter, Chelsea Brothers, had spent the night with Katherine Tafelski and her children. Mrs. Tafelski had agreed to take Chelsea to school on the morning of January 14, but had failed to do so. Pullman placed a telephone call to her daughter's home, but she received an answering machine recording, "which was not normal." Pullman decided to go to her daughter's residence to ascertain why she had not taken Chelsea to school. When Pullman arrived at her daughter's home, she was unable to gain entry because the front door was locked. Joan Poillon, who lived in the neighborhood, began to help Pullman gain access to *600 the residence. As they tried to enter the front door, they heard Chelsea crying. Chelsea was inside the home, but was unable to open the front door because of her age and diminutive stature.

Pullman and Poillon went to the rear of the house and discovered that the back door was open. When they entered the house, Chelsea ran to them crying. They observed that Chelsea had suffered a facial injury. Pullman and Poillon began to search the house in an attempt to locate Katherine Tafelski; her daughter, Ashley Tafelski, age five; and her son, Andrew J. Tafelski, Jr., age three. Pullman and Poillon found Katherine Tafelski's partially nude body, covered in blood, lying on her bed. It was apparent that she had been struck numerous times in the head and sexually assaulted with some type of object. The white sweatshirt that she had been wearing was ripped in several places and soaked with blood. Pullman ran to the kitchen area of the residence and placed a telephone call to the police. Poillon continued to search for the children. Poillon entered Ashley Tafelski's bedroom, and discovered Ashley's body lying in her bed with her hand hanging over the side of the bed and a large pool of blood beneath her. It appeared that Ashley had been struck several times in the head with a hard object. A small piece of bone fragment, "coupled with hair and blood," was near the foot of Ashley's bed. Poillon found Andrew Tafelski, Jr., in his bedroom, lying in the top bunk bed. He was suffering from numerous head and facial injuries, but he was still conscious.

After the police arrived at the residence, Detective Shawn Hoffman and another officer conducted a search of the area surrounding the residence. A trained dog located a track that extended from the rear utility room of the house to a wooded area behind the home. An officer found an old double-barreled shotgun in the woods. The shotgun had been removed from the Tafelski's residence. The intruder's apparent point of entry was a door located in the back of the Tafelskis' residence. The door contained numerous fresh tool marks. These tool marks were of a similar pattern and shape as marks found on the bodies of Katherine and Ashley Tafelski.

The bodies of Katherine and Ashley Tafelski were taken to the Norfolk Crime Lab for autopsies and forensic examination. Dr. Leah Linda Elizabeth Bush, assistant chief medical examiner, performed the autopsies. The autopsy of Katherine Tafelski's body revealed the following. Her head had been struck six or seven times with an object of significant weight. The skull was completely crushed, and it appeared that massive force had been applied. She had marks on her right upper inner thigh that, upon observation, appeared to resemble a belt buckle. She had suffered vaginal and anal penetration by an inanimate object. The vaginal penetration was made with an object ranging in diameter from one-half to two inches and penetrating to a length of 21 inches. The object, later identified as an automotive tool (rusted metal pry bar) about 30 inches long and containing a "screwdriver tip," perforated the victim's posterior vaginal wall, the left iliac artery, the left iliopsoas muscle, the small bowel mesentery, the omentum, the stomach, the left posterior hemidiaphragm, and the left periaortic soft tissue with intimal and medial aortic transection. A gray substance with a greasy consistency was found at the entrance of the victim's anal cavity.

Dr. Bush found a small piece of "bark/wood" while examining the victim's internal organs. Four or five abrasions, two of which contained small lacerations, were present on the victim's right side. Dr. Bush noted that either the blunt force trauma to the victim's head or the injury to her vaginal area and its related perforations would have been sufficient to cause death. The autopsy of Ashley Tafelski's body revealed the following. Ashley suffered massive head injuries that were inflicted by the same object that was used to kill her mother. She had four or five lacerations to her head. Two of the head wounds evidenced a "knurled" pattern on the skin. One of the wounds to Ashley's head did not break the skin, but crushed the skull underneath. Two of the wounds to Ashley's head evidenced markings consistent with the tool marks found at the point of entry at the residence. Dr. Bush determined that the cause of Ashley's death was blunt force trauma to her head.

Andrew Tafelski, Jr., suffered a double break in his jaw, at the joint and at the tip. He also had a wound above one of his eyes. Chelsea Brothers suffered bruises to her head, face, and body. A blue washcloth was found in the room near Katherine Tafelski's body. Lynn S. Baird, a forensic scientist, examined the washcloth and determined that spermatozoa were present. Robert W. Scanlon, a forensic scientist, determined, by using DNA tests, that the spermatozoa found on the washcloth stain were consistent with Russel Burket's DNA profile. Approximately 7.8% of the Caucasian population possess the same HLA DQa type as found in the examined stain.

Chelsea Brothers told Officer M.C. Stewart that "the bad man had a gun and a dog." Chelsea stated, while being transported to the ambulance for treatment of her injuries, that she was afraid of "the dog, the big dog. There is a dog out there." Chelsea added that the dog was "out there on the house, on the roof." Burket and his parents, who live next door to the Tafelski residence, had several large dogs in their backyard that frequently peered over a privacy fence surrounding their property. Numerous police personnel observed these dogs sitting on the roofs of their pens. As several officers began to search the Tafelski residence for physical evidence, they noticed that a man, later identified as Burket, looked at them for several minutes before entering his residence. This occurred several times. On one occasion, Burket began to walk towards two of the police officers, and he was advised to return to his home.

Later that day, Detective K.P. Rexroad spoke with Burket in his home. During this discussion, Burket said that he was frequently in Mrs. Tafelski's home to perform odd jobs for the family whenever her husband was out of town. Burket stated that he was outside of his residence around midnight on January 13, 1993, but that he had not seen anything unusual.