Sebastian Stephanous Bridges
Executed April 21, 2001 by Lethal Injection in Nevada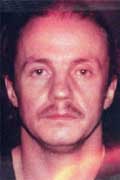 24th murderer executed in U.S. in 2001
707th murderer executed in U.S. since 1976
1st murderer executed in Nevada in 2001
9th murderer executed in Nevada since 1976
Since 1976

Date of Execution

State

Method

Murderer
(Race/Sex/Age at Murder-Execution)

Date of
Birth

Victim(s)
(Race/Sex/Age at Murder)

Date of
Murder

Method of
Murder

Relationship
to Murderer

Date of
Sentence

707

04-21-01

NV

Lethal Injection

Sebastian Stephanous Bridges

W / M / 34 - 37

09-12-63

Hunter Blatchford

W / M / 27

10-26-97

Handgun

Boyfriend to estranged wife

07-24-98

Summary:
Met wife Laurie, who was a prison nurse, while he was serving time in California. She fled the marraige to Las Vegas, but he caught up with her. Invited Laurie and her new boyfriend to meet in order to return her property. At meeting, boyfriend was shot and buried in the desert. Bridges was South African National. Pro Se at trial; Waived appeals.

Citations:
Bridges v. State, 6 P3d 1000 (Nev. 2000).

Internet Sources:


In a soft voice and chilling detail, Laurie Bridges told a jury how she tried to leave her husband, how he tracked her down, and how her new lover tried to protect her. He was shot to death for his effort, his body dragged to a shallow desert grave dug by his assassin. Acting as his own attorney and railing against prosecutors he called "crooked," Sebastian Bridges tried to convince the jury that Hunter Blatchford's death was an accident. But, after brief deliberations, the jury convicted Bridges of 1st-degree murder and kidnapping for the Oct. 27 death of 27-year-old Blatchford. Laurie Bridges, 47, and Sebastian Bridges, 34, met while she was a California prison nurse and he was incarcerated for grand theft, police said. They wed in 1993. In 1997 she left him in California and returned to Las Vegas, where she worked as a nurse and where she met Blatchford, also a nurse, on the job, she told jurors during the trial. 6 months later, her husband tracked her down, she said. He told her he had been watching her home. He showed her he had a key that could open and turn on her car. He told her he had been watching her lover and that she would "never get away." Blatchford called Sebastian Bridges and asked to meet "to talk so everyone would know where everyone else stood and there would be no more waiting for something bad to happen," Laurie Bridges testified. First her husband promised Blatchford his truck in return for the return of his wife, she testified. When that failed, they all met at an apartment and got in the car because Sebastian Bridges promised to show his wife were he had stored all their belongings. Farther and farther from town they drove until finally, in the middle of nowhere near some empty trailers, Sebastian Bridges stopped the car and pulled out a gun. "You're gonna kill me now aren't you," Blatchford asked seeing the gun. "I trusted you. I trusted you," he said to his killer, Laurie Bridges testified. "I'm sorry and I love you with all my heart," she said she told her lover as he died, shot once in the torso. Sebastian Bridges covered the body in plastic bags, pistol whipped then handcuffed his wife, and drove to the desert near Nipton, Calif., where he took out what she described as a "brand new shovel" from the trunk of the car and began digging a grave. She said she considered running but thought she wouldn't make it far, cuffed at the arms and legs, badly bruised and in the middle of nowhere, on a night lighted only "by the last sliver of the moon." So she stayed and listened as her husband dug the grave and told her repeatedly, "it's all your fault." On the way back to Las Vegas they pulled over on the side of the road. A rookie state trooper checked to see if everything was OK, found that it wasn't, and called police. Sebastian Bridges led them to the body. Sebastian Bridges did not take the stand in his own defense. Instead, he begged the jury in closing arguments to look at photographs of the body and find, as he had, that the shooting was an accident caused by a sharp movement and pressure on the gun. He cried each time he mentioned his wife, hardest when he spoke of her being pistol-whipped. "This is malicious prosecution," he told the panel. "If you find with any reasons, with an intent, I killed this man, you should kill me." District Judge Jeffrey Sobel tried to talk Sebastian Bridges in to accepting the help of an attorney. After a hearing, mental health professionals found him narcissistic, intelligent and competent to serve as his own lawyer, if he chose.

Lamp of Hope (Las Vegas Review-Journal & Rick Halperin)

April 22 - NEVADA - Defiant to the end, Sebastian Bridges shouted, "I killed nobody, I didn't kill anybody," in a last-minute, emotional outburst before he was executed by lethal execution Saturday at the Nevada State Prison. Some of Bridges comments could be heard from behind blinds that blocked witnesses' view into the execution chamber, where he was brought at 8:50 p.m. and strapped to a table. The 37-year-old South African national was pronounced dead at 9:18 p.m., minutes after a combination of 3 drugs, 2 of them lethal, flowed into his body through a needle in his arm.

He was executed for murdering Hunter Blatchford, 27, in the Las Vegas desert in 1997. Blatchford had been romantically involved with Bridges' estranged wife, Laurie. Bridges was granted an unusual last request by Department of Prisons Director Jackie Crawford: He was escorted into the execution chamber wearing a suit and tie instead of the usual new prison blue jeans and denim shirt. Crawford said Bridges' last words were: "You have no justification to kill me. It's just wrong. It's just wrong." Crawford said she honored Bridges' request to have his minister, who was not identified, with him as he died. Allowing the minister to be present was a change from past prison policy, but it is done in other states, she said. It was the first execution under Crawford's direction. "It was the man's last request, and therefore we did (allow it)," she said. Crawford said Bridges' anxiety level was high as last-minute efforts were made to get him to halt his execution. "He never changed his mind," she said. "He said, `Absolutely not,' he did not want an appeal."

The victim's father, Walt Blatchford, flew in from Tennessee to watch Bridges die. Blatchford said the execution was a step toward closure, but Bridges' death would not bring his son back. "I was impressed when Sebastian went in. He was very stoic," Blatchford said. "Apparently he was prepared to go out gracefully. The last-minute pleas, attempts to get him to change his mind, obviously upset him, and I think it cheated him of the opportunity to go out in the style he wished to go." Blatchford said he was not surprised when Bridges looked right at him through the witness window and said, "This is murder." "I had the opportunity to observe him during a portion of the trial, and there is a somewhat twisted man there," he said. "I didn't take any of that seriously. I couldn't take it personally."

The last-minute efforts to stop the execution delayed the process twice, while Assistant Federal Public Defender Michael Pescetta conversed with Bridges. Pescetta would not talk about his conversations with Bridges as the inmate, his long hair tied in a ponytail, was strapped down awaiting the lethal drugs. "He died protesting his innocence and the process that brought him there," Pescetta said. Only a handful of protesters opposing the execution braved a chilly night to make their opinions known. About two dozen people held a candlelight vigil outside the prison gates. Nancy Hart, a representative of Amnesty International and the Nevada Coalition Against the Death Penalty, called the execution a violation of Bridges' fundamental human rights. "No other industrialized Western nation uses the death penalty," she said. "It's barbaric and it should be abolished."

Bridges was taken to the "last-night cell" across from the execution chamber at 12:15 p.m. Saturday. He ate his last meal at 4 p.m. Bridges spent his last hours visiting with his minister and Pescetta, who had sought to persuade him to appeal his case. It was the 9th execution in Nevada since the legislature in 1977 reinstated the death penalty. All but one have involved inmates who waived their appeals. There are now 85 men and 1 woman on death row in Nevada. Bridges had declined to appeal his death sentences through the courts.

Pescetta said Bridges would have had a strong case on appeal involving his Sixth Amendment right to legal representation. Bridges had $56,000 in his possession when he was arrested but was not allowed to use the money to hire a defense lawyer at trial, Pescetta said. Bridges was appointed a public defender, but he ultimately represented himself and was sentenced to death by a jury. Pescetta said Bridges believed the courts should have reversed his conviction without his pursuit of an appeal. No attempt was made to seek a pardon because Bridges did not want to spend the rest of his life in prison, the attorney said. "A pardon or commutation would not do it for him," Pescetta said Thursday. "His position is, either reverse my conviction or kill me."

Bridges' execution came as capital punishment became a hotly contested topic in the legislature. The Senate Judiciary Committee on April 10 amended a bill that would have abolished the death penalty to instead establish a 2-year moratorium on executions while lawmakers study the fairness of the punishment. Gov. Kenny Guinn said the legislature's consideration of a moratorium would cause him to evaluate whether to let the Bridges execution proceed. But in a heated debate in the Senate on Tuesday, the moratorium and study measure, Senate Bill 254, was amended to exclude inmates such as Bridges who do not appeal their executions. Following the change to the bill, Guinn said he would not intervene to halt Bridges' execution. The bill passed the Senate on a 13-8 vote Wednesday and is expected to receive favorable consideration in the Assembly.

Bridges becomes the 1st condemned inmate to be put to death this year in Nevada. Bridges also becomes the 24th condemned inmate to be put to death this year in the USA and the 707th overall since America resumed executions on January 17, 1977.

April 23, 2001 - Convicted Killer Dies in Bizarre Nevada Execution (By BRENDAN RILEY, Associated Press Writer)

CARSON CITY, Nevada (AP) A convicted killer who could have stopped his execution by asking for an appeal died by injection after screaming to prison officials that he should be allowed to live. Yelling ``I killed nobody, nobody,'' Sebastian Stephanus Bridges, 37, was executed late Saturday for shooting Hunter Blatchford and letting him bleed to death in the desert outside Las Vegas. Bridges could have stopped the execution at any time by saying he wanted to appeal, but did not. Instead, he pleaded with prison officials to let him live, shouting, ``You want to kill me like a dog.''

Walt Blatchford, the victim's father, traveled from Tennessee to view the execution. He stared silently at Bridges through a glass viewing window. "There is a somewhat twisted man there,'' he said after the execution. ``I didn't take any of that seriously. I didn't take it personally.'' Bridges had said his estranged wife Laurie shot Blatchford but that he took the blame out of ``fatal, unconditional love and loyalty to her.''

Defense attorney Michael Pescetta was twice brought into the execution chamber to try to get Bridges to change his mind about appealing. ``He died protesting his innocence and the unfairness of the process _ yet he was unwilling to stop it,'' Pescetta said. The Rev. Chuck Durante, who led a protest vigil outside Nevada State Prison, said Bridges' death for the 1997 killing amounted to a state-assisted suicide. ``For Christians this day is in the octave of Easter,'' the Catholic priest said. ``From Easter Day until a week later we celebrate life and hope. And tonight the state celebrates death.''

Bridges appeared calm as he was strapped to a gurney 10 minutes before his scheduled 9 p.m. execution, but broke down minutes later. He screamed that prison officials should halt the execution, but finally said, ``I will not stop it.'' As the injections began, Bridges raised his head, looked wildly at Blatchford, and screamed, ``This is murder.'' Prison Director Jackie Crawford said Bridges' last words were, ``You have no justification to kill me. It's just wrong. It's just wrong.'' Bridges was pronounced dead at 9:18 p.m. ``He said I could stop it,'' Crawford said. ``But he was the only one who could stop it.'' Bridges, who was executed wearing a brown double-breasted Pierre Cardin suit and shiny, new black shoes, was consoled by his minister and a prison chaplain.

Earlier in the week, Gov. Kenny Guinn said he wouldn't block the execution, Nevada's ninth since the U.S. Supreme Court reinstated capital punishment in 1977 and the first since 1999. There have been 707 executions countrywide since 1977. Bridges, who changed his name from Carl Coetzer, had sent word to the South African government to keep out of the case.

CARSON Tuesday, April 17, 2001 - Guinn deciding whether to stay Bridges execution - (By Geoff Dornan, Capital reporter)

Gov. Kenny Guinn is meeting with legal and other advisors today to determine whether he will stay the execution of Sebastian Bridges. Bridges is scheduled to die April 21 by lethal injection. He was convicted of murdering his estranged wife's lover, Hunter Blatchford, near Las Vegas.

Bridges, 37, has refused to allow the federal public defender's office to intervene on his behalf, even though an appeal would bring an automatic stay of execution. He filed a motion saying the April 21 date wasn't quick enough and he wanted his execution set last week. That motion was rejected by the Nevada Supreme Court. Guinn said several measures, including a two-year moratorium on executions in Nevada, are being processed by the Legislature. "I don't want to execute someone one day and then have a moratorium arrive on my desk the next," he said. The moratorium plan was amended into a bill by the Senate on Friday. Sen. Mark James, R-Las Vegas, urged lawmakers to approve the moratorium while a special commission studies alleged inequities in how Nevada handles death cases. Sen. Mark Amodei, R-Carson City, suggested during that debate that James consider an amendment allowing those who have requested execution such as Bridges to be put to death.

Bridges is accused of luring his ex-wife and Blatchford into his car, driving them into the desert near Las Vegas and shooting the man. He insisted during his trial that the shooting was an accident. But jurors convicted him after just 25 minutes of deliberation. Public defender Michael Pescetta said Bridges has a strong chance on appeal because his funds of $56,000 were seized when he was arrested and he wasn't allowed to use the money to hire a lawyer. As a result, Pescetta said, Bridges ended up defending himself and receiving a death sentence "for what people are saying is not a death penalty case." Guinn is expected to decide whether to stay the execution today.

Saturday, April 21, 2001 - Las Vegas Review-Journal - Victim's father says execution fitting for killer (By GLENN PUIT REVIEW-JOURNAL)

If the state of Nevada sticks a needle into the arm of convicted killer Sebastian Bridges tonight, at least one man present will have no qualms about seeing him die. "There is no question whatsoever that this is the appropriate thing to do," Walt Blatchford said Thursday. "It's for the welfare of the general public." Bridges shot Walt Blatchford's boy, Hunter Blatchford, and then watched the 27-year-old bleed to death in 1997. Today, the retired nuclear industry worker is expected to arrive in Carson City, roughly 1,800 miles away from his home in Tennessee, to watch his son's killer pay for his crime. Walt Blatchford said in a phone interview Thursday that in his opinion, Nevadans shouldn't feel any sorrow for Bridges, 37, because Bridges has demonstrated time and again that he is cold-hearted, selfish and merciless. "Nothing he says will bother me, because I know this man is not capable of remorse," Blatchford said.

Walt Blatchford's nightmare started in October 1997. His son was a New Jersey native and a nurse at a Las Vegas hospital training to work in the sheet metal industry at the time of his death. Hunter Blatchford's close friend, Las Vegan Todd Hassel, said Hunter was an avid guitar player and rock climber who went into the nursing profession to help people. "He was definitely a shining light," Hassel said, "one of the most unique individuals I've ever met."

Hunter Blatchford's problem with Sebastian Bridges stemmed from his dating a Las Vegas woman named Laurie Bridges, who at the time was Sebastian Bridges' estranged wife. Laurie Bridges had met her husband while she was a nurse in a California prison, where Sebastian Bridges was serving time for grand theft. She left him in 1997 because he was beating her. Walt Blatchford said his son took a liking to Laurie Bridges and hoped to serve as her protector. "She needed some place to hide because Sebastian was trying to find her," Hunter Blatchford said. "She was terrified."

On Oct. 27, 1997, Sebastian Bridges convinced Laurie Bridges and Hunter Blatchford to meet with him so he could give his estranged wife her belongings, which he had stored. But instead, Sebastian Bridges drove Hunter Blatchford and his estranged wife into the desert. "You're going to kill me now, aren't you," Laurie Bridges quoted Hunter Blatchford as saying to Sebastian when the killer pulled a gun. "I trusted you. I trusted you." Sebastian Bridges shot Hunter Blatchford in the stomach, let him bleed to death and then buried his body in the desert. Sebastian Bridges was later arrested by a curious Nevada Highway Patrol trooper who noticed Sebastian Bridges and his estranged wife parked alongside Interstate 15.

During his trial, the South African national insisted on representing himself. He termed the shooting "an accident," and after being convicted of murder, Bridges begged for the death penalty. He got what he asked for. Clark County Chief Deputy District Attorney David Wall, who prosecuted Bridges, said Friday that Sebastian Bridges was well-defined by psychologists and psychiatrists during court evaluations. "He is a manipulative, controlling and highly intelligent individual," Wall said. "He is highly narcissistic, and basically the crime was for Sebastian's gain." Wall added that "Sebastian thinks he is the smartest individual out there."

Hunter's father said beyond the killing of his son, he learned of Sebastian Bridges' true nature when he was cross-examined by the killer during the sentencing phase of Bridges' trial. "He stood in the courtroom and apologized to us for the accidental death of Hunter," Walt Blatchford said. "This came after he tried to blame it all on Laurie. I couldn't even listen to him after awhile. I tuned him out." Walt Blatchford also said he didn't learn until Wednesday of Nevada's proposed two-year moratorium on the death penalty. After losing his son to senseless violence, he cannot comprehend such sympathy for convicted killers. "I would ask them to walk in my shoes," Blatchford said of supporters of the moratorium. Nonetheless, Blatchford said he doesn't let the negativity of the loss consume him. Instead, he constantly reminds himself of how much his son helped others, both in the nursing profession and in his personal relationships, during his 27 years. "My wife and I are both proud we were able to raise a son as great as he was," Walt Blatchford said. "He made a contribution to a lot of people."